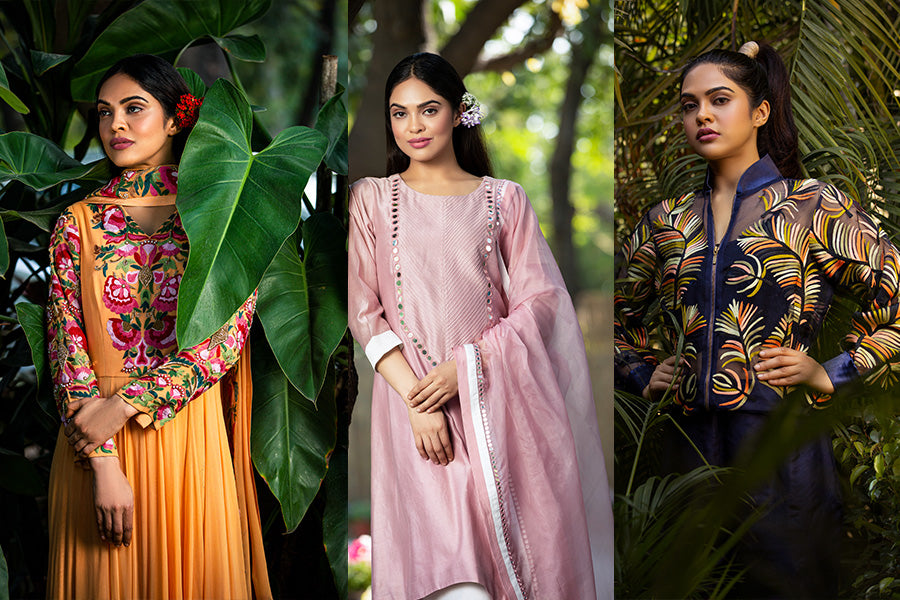 Kashmiri outfits are a blend of dreamy aesthetics and razor-sharp craftsmanship. This season, as the warm sun is set to make its debut, stock up on some pretty picks that will get you through summer in style. Take the minimal yet elegant route with Kashmiri outfits that are equal part classy and refreshing with a grand display of authentic handicrafts from the valley and fabrics that make summer dreams come to life.
Anarkali Suit Powered With Kashmiri Embroidery
Anarkali suits are second to none and are always in vogue for their ethereal appeal. With rich roots etched in Indian history, the famous Anarkali has time and again managed to evolve with trends to stay relevant and win the hearts of fashion lovers across the country.
The fit of an Anarkali is unmatched since it lends its muse the look and feel of a modern-day princess. Featuring a fit-and-flare silhouette. The staple is tailored with two separate pieces, a bodice and a flared fabric attached together at the waist. The bodice is usually heavily embroidered wherein the flowy part remains light, often balanced with work on the ghera. Kashmiri Anarkali suits are the epitome of royalty especially when crafted in delicate palettes of pastels and doused with authentic embroideries such as aari, tilla, or dabka.
WE RECOMMEND
A graceful Deep Peach Anarkali Suit tailored to perfection and adorned with generous, colorful Kashmiri dabka embroidery on the neckline, sleeves, and the ghera depicting rich flora in bloom. The dupatta is also ladened with a floral embroidered border. The set is complete with a well-fitted lycra churidar. The Kashmiri dabka embroidered Anarkali set is elegant and powerful, perfect to make a bold statement almost effortlessly.
Co-ord Set Crafted With Delicate Fabrics & Floral Embroidery
Power dressing meets traditional Kashmiri embroidery in the most magical melange - Co-ord Sets. Classy in appeal with its fine tailoring and silhouettes, and refreshing with the depiction of authentic Kashmiri handicraft on a modern-day marvel - The Co-ord Set.
Think of Co-ord Sets as power dressing essentials for women - generally a two or three-piece suit comprising of a well-tailored pair of trousers, an inner camisole (optional), and a jacket which is often the showstopper. Co-ord sets are tailored from various materials, the pants usually being tailored from rich fabric like silk, the jacket however can be made from a range of fabrics like organza or silk.
WE RECOMMEND
A statement maker and a contemporary marvel - Midnight Blue Co-ord Set that redefines your look in an instant with its powerful appeal. The set features a pair of dupion silk trousers, and an organza jacket featuring vivid Kashmiri aari embroidery depicting wild flora in bloom. The set makes for the perfect addition to your summer wardrobes for those evenings when you just have to look beyond the extraordinary.
Pastel Suit Set With Contemporary Kashmiri Embroidery
Nothing makes a statement quite like a simple suit set rendered in summery pastel hues and festooned with sequins or embroidery. A suit set is a versatile staple to own given its simplicity and modest form.
Summer calls for suit sets to be rendered in dreamy hues preferably on the lighter side of the spectrum and pastels. Light colors are forever in vogue especially when the sun is out to play. Ideally, fabrics like organza and chanderi make for the perfect canvas when tailoring a suit set. This summer, the suit set makes a classic impression with pastel tones and art forms like mirror work, sequins work, aari, tilla and dabka embroidery
WE RECOMMEND
A pleasant eye-catching Old Rose Suit Set tailored from Chanderi and harboring intricate details. The alluring pink tone is complemented with fine details like the pintucks and mirrorwork that enhance its beauty in the most simple yet elegant way possible. A complete set that is made to make your day extraordinary, this opulent set will set you apart from the crowd with its finery.