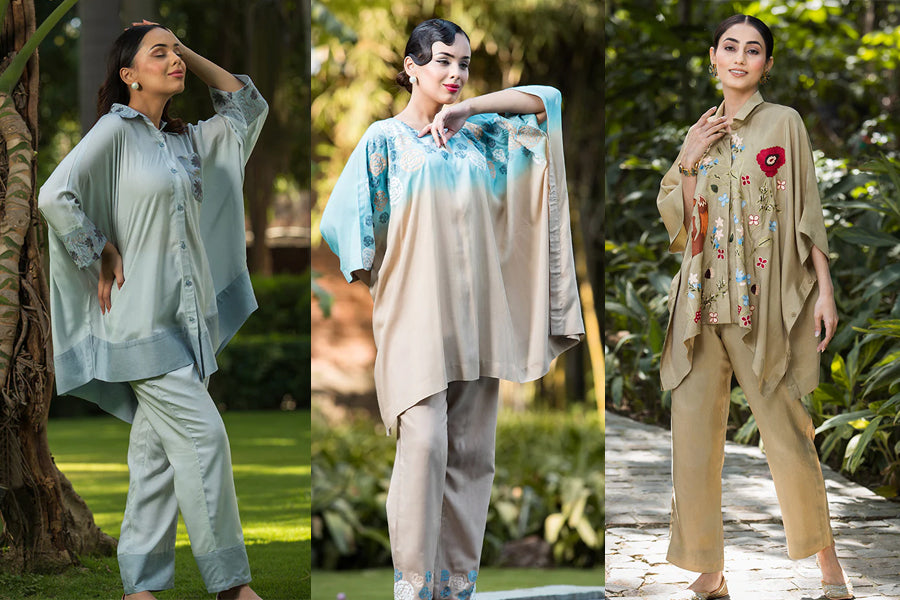 Dressing for the monsoons can be quite challenging. However, at Luxuries of Kashmir, we believe that the rainy season doesn't have to dampen your style; in fact, it's an opportunity to showcase your fashion prowess and make a splash with your wardrobe choices. Our featured outfits are co-ord sets that exude elegance, ease of wear, and the remarkable beauty of Kashmiri craftsmanship. Each ensemble is thoughtfully designed to embrace the monsoon season while making a lasting statement. From intricate embroidery to monsoon-friendly hues and luxurious fabrics, these outfits are a celebration of timeless style and cultural heritage.
Inspired by the enchanting songs of nature, Gardenia is a stunning co-ord ensemble showcasing the grandeur of mesmerizing patterns through intricate aari embroidery, delicately laid on a canvas of luxurious viscose tabby. We believe that comfort should never be compromised, and this outfit ensures that you experience both comfort and elegance.
The focal point of this ensemble is the sophisticated collar button-down top, exuding timeless charm and a touch of sophistication. Paired with it are straight pants, thoughtfully lined with comfortable cotton, allowing you to move with ease. To enhance practicality, we have adorned the pants with convenient pockets, ensuring that you have everything you need at your fingertips. To add a structured and elegant touch, the outfit is designed with a side button and zipper closure. This feature not only accentuates your silhouette but also exudes an air of refinement, making it the perfect choice for any occasion where you want to make a lasting impression.
Blue Bliss is a unique ensemble that combines the captivating hues of blue and khaki to create a visually stunning and effortlessly chic look. Prepare to be enchanted by the magical silhouettes, exceptional fits, and unparalleled craftsmanship of this set. It features a comfortable top, carefully crafted to provide both style and ease. Adorned with intricate artwork, every detail has been meticulously designed to add a touch of elegance and sophistication to your look. The top ensures a perfect fit that flatters your figure while allowing for comfortable movement.
Completing the set is a straight pant that guarantees unmatched comfort. Whether you're strolling through the rain-soaked streets or attending a social gathering, these pants provide the ideal balance of style and ease. Indulge in the sheer beauty and comfort of this monsoon outfit. With its unique color combination, exceptional fits, and fine craftsmanship, it is sure to become your go-to ensemble for making a stylish statement. 
Elevate your everyday wardrobe with our exquisite outfit designed specifically for the monsoon season. This pret masterpiece is a true reflection of understated elegance, showcasing the beauty of subtle hues and fine craftsmanship. The gray co-ord set is crafted from premium modal cotton, ensuring optimal comfort and breathability, even on rainy days. The soft and luxurious fabric drapes effortlessly, enveloping you in a world of comfort and style.
What sets this ensemble apart is the delicate embroidery that adorns it, making a lasting impression. The intricate details and meticulous craftsmanship add a touch of sophistication and charm, transforming this outfit into a wearable work of art.
Shop more elegant outfits that you can add to your monsoon wardrobe this season and make a splash. Visit Luxuries of Kashmir.