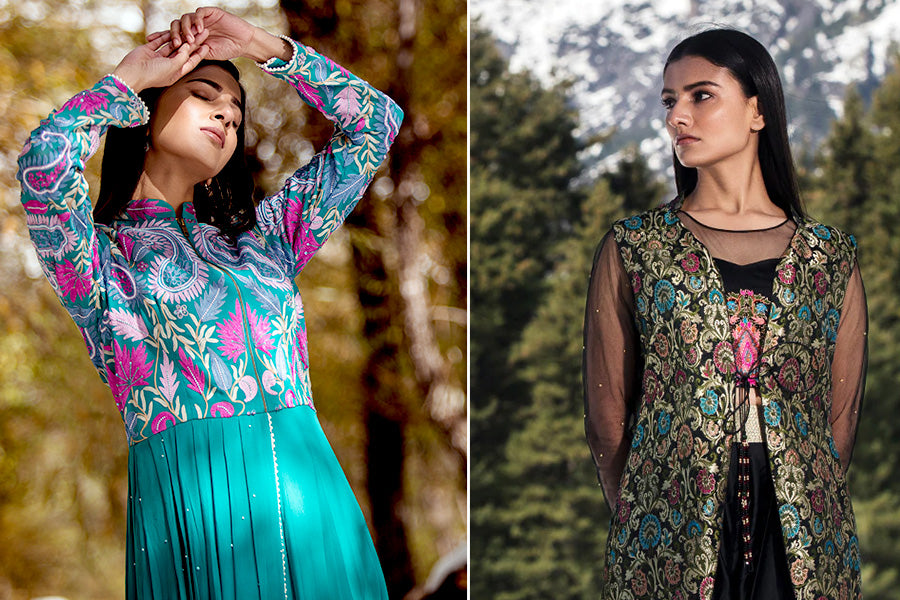 As the season of festivities and celebrations fast approach, it's time to rethink the looks to put together for various occasions. Be it a wedding, a family get-together, or a festive celebration, it's the apt season and a good enough reason to ditch the conventional ethnic outfits and embrace unique style statement-making staples that will not just set you apart from the crowd but will also crown you the ultimate fashionista. Yes, we're talking Kashmiri fusion wear!
Blending together contemporary styles and vintage charm, fusion wear from the melting pot of cultures and craftsmanship - Kashmir is gaining popularity and becoming a preferred staple amongst the fashionistas. There is a reason why Kashmir has garnered the reputation of being a luxurious stop when it comes to all things fusion wear. Right from the premium fabrics to the royal handcraft embroidery that is a statement in itself, Kashmir has elegance in everything it has to offer.
KASHMIRI FUSION WEAR - TRADITION WITH A TWIST
Kashmiri fusion wear is a melange of traditional outfits with a strong western influence. Age-old techniques with modern silhouettes make Kashmiri fusion wear the apt choice for those special occasions where you wish to look beyond extraordinary. Flowy drapes with a generous sprinkle of the famous Kashmiri handicraft embroidery are always a good idea when making a statement.
BREAK THE MONOTONY
Be it sarees, lehengas, or salwars, they are a no-brainer choice when it comes to festive fashion. Break the monotony and choose a fusion wear outfit for your next event and watch heads turn. Kashmiri fusion wear elegantly combines pieces of Kashmiri fashion with the west and brings to life tasteful pieces that are comfortable, sophisticated and meet the demands of the modern fashionista who wants to wear a piece of the Kashmiri culture in a new age form.
FLAUNT THE ROOTS OF KASHMIR
There is something whimsical about fusion wear. The appeal of a well-tailored piece is simply charming. With roots in Kashmir, these pieces radiate the ancient culture and tradition of the valley but with a twist. Most Kashmiri fusion outfits are inspired by the natural beauty of the valley, the handicraft embroidery weaves stories in the form of flora, fauna and other elements that reflect the roots of Kashmir in its most sincere form.
MAKE A UNIQUE STYLE STATEMENT
Fusion wear is anything but ordinary. The silhouettes, the handicraft, and the finer details make it as unique as can be while breaking free from the shackles of the norms. Kashmiri fusion wear over the years has garnered a reputation for being timeless, contemporary and one of a kind. These pieces are hand made, weaving perfection in every seam.
In a sea of fusion wear outfits, shop for the latest and the most genuine Kashmiri fusion wear brought to you straight from the valleys.