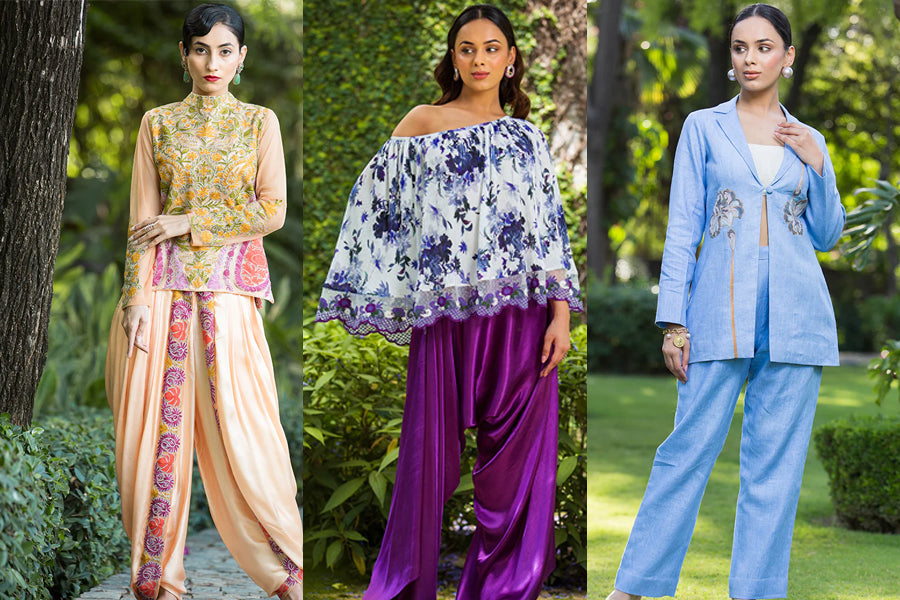 Fashion is all about embracing your individuality and self-expression in the most unique manner possible. Co-ord sets which are the hottest trend these days tick all the right boxes and help make quite the fashion statement. They are breezy, light, and stylish - the perfect pick for a dull day and the perfect accomplice for an eventful day. Traditional co-ord sets are perfect but if you are someone who likes making a unique entrance, explore these unconventional co-ord sets that blend comfort, fashion, and sophistication.
This curation features 3 unique co-ord sets that defy conventional norms and redefine style all over again. 
Harmony is a melange of creativity, traditional elements, and Kashmiri finesse. The co-ord set features a heavily embroidered top complemented by a flowy dhoti that also holds a fair share of Kashmiri craftsmanship on it. The peach halter neck top features eye-catching Kashmiri tilla embroidery in multiple hues making it a treat to the eye and the senses alike. The top is complemented with a flowy dhoti rendered from satin and net. It features intricate embroidery along the borders and makes quite an impression. The fusion co-ord set is a stylish pick for when you want to make a grand entrance but with a touch of elegance and panache.  
Move over the ordinary and embrace the magic of extra glam with this co-ord set that features an off-shoulder cape top and a flowy pair of pants. This ensemble effortlessly combines imaginative design, traditional elements, and the finesse of Kashmir. The printed cape comes with scalloped edges and is accentuated with vibrant thread embroidery. The off-shoulder cape is teamed with a pair of purple ruffled pants that are unique in their own sense. The metallic sheen balances the flowery white cape top and adds a bit of extra glam for a remarkable style quo.
Take power dressing to a whole new level with this pristine blue suit co-ord set that amalgamates formal and casual vibes in one elegant outfit. The co-ord set features well-tailored pants and a blazer that channel elegance and sophistication. The blazer is tailored in a refreshing fashion with a single button and floral embroidered motifs on either side. The finer details add to the appeal of this masterpiece and make for a rather unique addition to your wardrobe. The pants are both comfortable and chic and perfectly complement the blazer, making it a complete outfit in itself when teamed with a white crop top.
Shop more unique co-ord sets that bring together traditional Kashmiri artwork and modern silhouettes to form fusion wear you can flaunt whenever, wherever. Discover more luxe co-ord sets at www.luxuriesofkashmir.com.