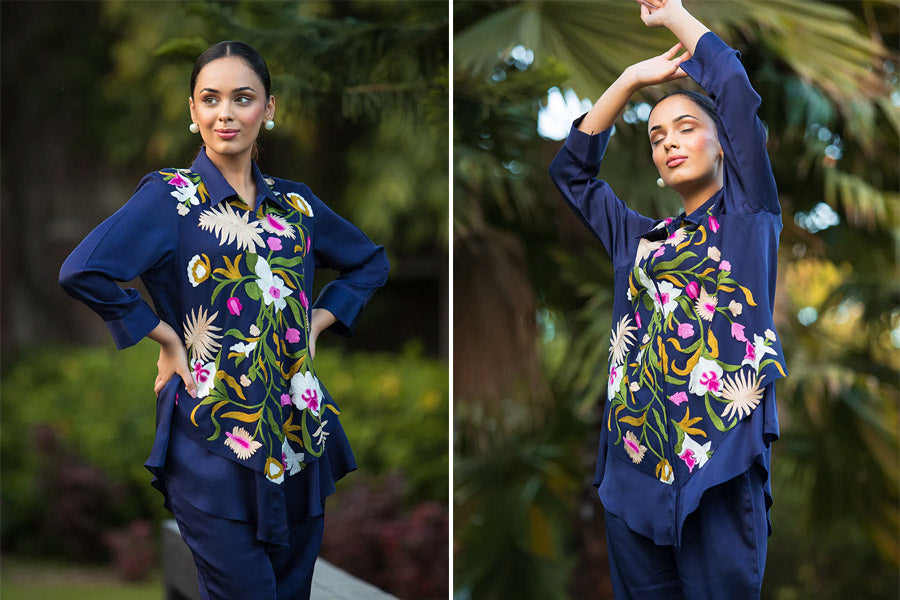 It's that time of the year again when our latest collection is all set to make its way into your wardrobes. Introducing À La Mode - a blend of luxury, fashion, and nature-inspired elegance. À La Mode is a pret line featuring a balance between comfort and style. The collection is carefully crafted with opulence in mind, ensuring that each garment and each stitch is a work of excellence.
At the heart of the À La Mode collection is a fine selection of luxe fabrics expertly sourced to ensure a perfect fit and long-lasting wear. The combination of fine tailoring and quality fabrics creates a range of garments that are both stylish and practical. The feminine silhouettes teamed with the fine details make every piece swoon-worthy and great additions to your everyday wardrobe.
One of the most distinctive features of the À La Mode collection is the Kashmiri embroidery that is incorporated into many of the designs. This intricate artwork adds a touch of traditional elegance to modern cuts and styles. Each piece has been carefully hand-embroidered by skilled artisans to create a unique and individual piece that is sure to become a treasured addition to any wardrobe.
The collection features a range of co-ord sets, suit sets, and shirts, all set in pastel and floral tones inspired by the finesse of nature - flora, fauna, and life in all forms. The color palette is both sophisticated and versatile, ensuring that each piece can be worn in a variety of different ways.
Co-ord sets are all the rage now given how comfortable and chic they look. The two-piece co-ord sets from our latest collection are stylish and sophisticated bringing the perfect dose of comfort and practicality to your wardrobe. The co-ord sets include beautifully tailored tops with intricate embroidery teamed with matching skirts and pants. The pastel color palette ensures that the outfit is versatile enough to be worn for a range of different occasions, from a day out shopping to a formal dinner party.
The collection also features elegant ethnic suit sets inspired by the raw beauty of nature. These elegant and stylish pieces are perfect for the modern woman who wants to make a statement. The sets include beautifully tailored kurtas and pants, adorned with exquisite Kashmiri embroidery and fine tailoring. The suit sets bring a fresh perspective to modern pret wear with a touch of Indianness that is simply heartwarming.
The collection also features some standout shirts that channel chic vibes with the right hint of sophistication. Each shirt is crafted from high-quality fabrics and features intricate embroidery on the collar and cuffs in addition to elegant silhouettes. The pastel colors and elegant design make these shirts perfect for pairing with jeans or dress pants, creating a stylish and sophisticated look that is both comfortable and practical.
Indulge in an experience that brings together nature, luxury, and fashion - Explore our latest collection now and start wishlisting your favorite Pret wear.