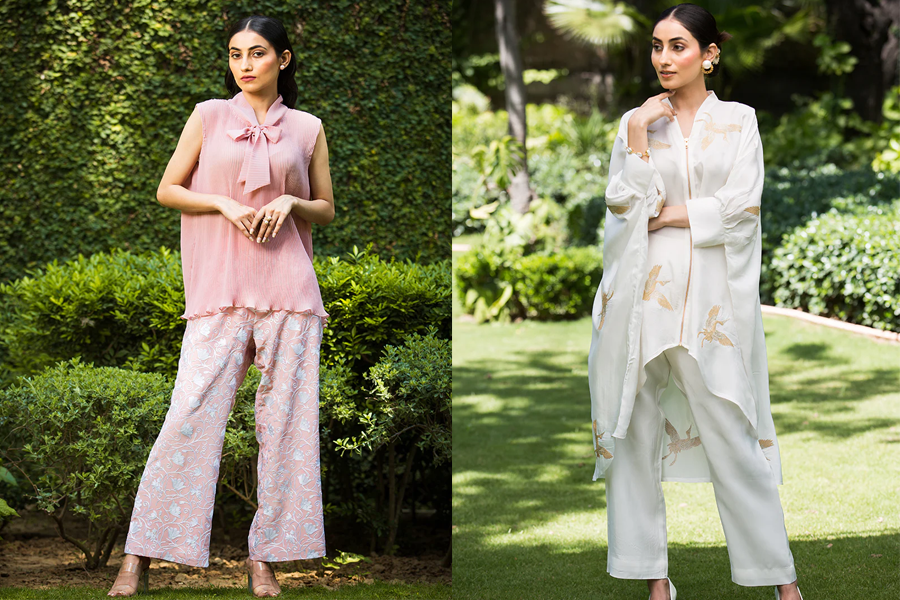 A quiet morning, the aroma of freshly brewed coffee wafting through the air at brunch, and you, donning a chic and contemporary co-ord set that exudes confidence and poise - is it not what perfection would look like? In the case you are meeting friends for an elaborate brunch, planning on exploring the city's hottest spots, or simply planning on basking in the joys of a laid-back weekend, the perfect outfit can make a huge difference.
These luxe co-ord sets curated from our latest pret collection are tailored to make you feel like the ultimate fashion icon. Curated from our tasteful selection of co-ord sets featuring sumptuous fabrics, adorned with exquisite detailing, and designed to effortlessly contour your silhouettes, each ensemble encapsulates the essence of modern femininity, allowing you to express your unique style while reveling in comfort.
A breezy co-ord set dipped in subtle, rosy hues of pink
Pink is the color of the season, and when in the mood to Indulge in timeless sophistication, this georgette and crepe co-ord set in the most subtle hue of pink is the ideal choice. Meticulously fashioned, this elegant masterpiece can effortlessly enrich your everyday wardrobe with an air of refinement. The luxurious blend of georgette and crepe fabric drapes elegantly, while the intricate finer details enhance the overall allure. Embrace a sense of calm and serenity as you slip into this co-ord set, designed to elevate your style and exude an understated grace. 
A two-tone co-ord set that exudes sophistication and charm
One can never go wrong when choosing an elegant monochrome outfit for brunch. Experience the magic of a dreamy silhouette, accentuated by a patterned black overlay on the top, adding a touch of allure to your look. Embrace both style and comfort with the included pair of flared pants, designed to elevate your everyday wear. Immerse yourself in the sophistication of this captivating ensemble, perfect for any occasion that demands elegance and grace.
A melange of simplicity and Kashmiri finesse
Elevate your brunch game and embrace a new paradigm with this graceful co-ord set, exquisitely fashioned from viscose tabby. Revel in the artistry of aari tilla embroidery, as delicate cranes grace the asymmetric top in resplendent royal tones of gold, symbolizing elegance and fusion. Crafted with attention to detail, sophistication, and versatility, this stunning co-ord set is designed to make a statement and celebrate the beauty of traditional craftsmanship and contemporary flair.
The perfect ensemble for the dreamer and doer
Unleash the allure of a power suit that exudes both refreshing charm and undeniable strength. The blue co-ord set is a stunning embodiment of sophistication, boasting beautifully tailored silhouettes that command attention. The ensemble captivates with its intricate embroidery detailing, adding an extra touch of elegance to the look. Embrace your powerful side at brunch with the ravishing appeal of this ensemble that stands out as a must-have for the season.
Shop more brunch-ready styles at www.luxuriesofkashmir.com