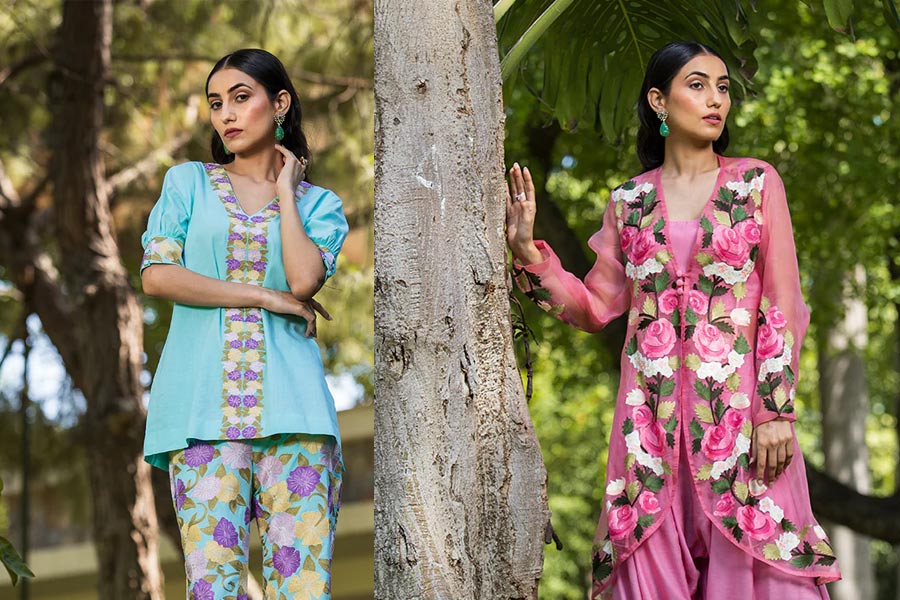 Explore a world of vibrant colors, playful tones, and matching ensembles that effortlessly combine fashion and functionality for everyday comfort. Whether you're looking for bold and vibrant designs or subtle and sophisticated combinations, these co-ord sets are the perfect choice to make a statement. Join us as we unravel the beauty of Kashmiri co-ord sets and inspire your wardrobe for the upcoming season. Embark on a journey of coordinated fashion that will make heads turn and leave a lasting impression wherever you go! 
A melange of turquoise and purple hues in a floral fiesta
Step into a floral fiesta with the Euphoria Co-Ord Set, a stunning melange of turquoise and purple hues. Elevate your everyday style with this vibrant ensemble, boasting a turquoise top adorned with intricate embroidery along the neckline, panel, and sleeves. The accompanying printed flare pants exude chic sophistication, creating a perfect harmony of bold colors and intricate details. Embrace the joy of coordinated fashion as you step out in this eye-catching co-ord set, ready to make a statement wherever you go. Be prepared to bask in the euphoria of style and grace with every step you take.
A tassel tale of many hues threaded in a symphony
Embark on a tassel tale with the enchanting "Threads of Color" co-ord set. This exquisite ensemble weaves together a symphony of vibrant hues, each thread telling a story of life and vibrancy. The modal silk fabric forms a luxuriously soft canvas that embraces both comfort and elegance. The boat neck modal cotton top, designed for ease and grace, adds a touch of sophistication to your everyday attire. Complete with playful tassels in vivid colors, this set is a celebration of individuality and style. Step into a world where threads of color come alive, creating a truly captivating ensemble that embodies both beauty and comfort.
A playful display of roses on a pink canvas
Indulge in the whimsical allure of "Rosette Dreams," where a pink canvas becomes a playground for a playful display of roses. This co-ord set captures the essence of feminine charm and romantic dreams. The soft pink fabric sets the stage for a delicate floral extravaganza, as intricate rosette patterns dance across the ensemble. The top features a flattering silhouette, while the coordinating bottoms add a touch of elegance with their relaxed fit. Let the rosettes transport you to a world of enchantment and awaken your inner romantic. With "Rosette Dreams," every step becomes a graceful dance in a garden of floral wonders.
A dazzling symphony of colors on a canvas of vibrant hues.
Immerse yourself in the splendor of "Foliage," a co-ord set that harmonizes a dazzling symphony of colors on a canvas of vibrant hues. This opulent ensemble showcases the exquisite craftsmanship of Kashmir, where tradition meets luxury. The olive green blouse and dhoti, crafted from soft and lightweight viscose tabby, offer a comfortable yet stylish silhouette. Adorning the set is an ethereal organza cape, gracefully draping the body and showcasing intricate artwork. Delicate embroidery featuring flora and fauna adds a touch of elegance, capturing the essence of nature's beauty. With "Foliage," embrace the allure of Kashmiri artistry and exude effortless sophistication in every step.
Experience the beauty of more such elegant and colorful co-ord sets accentuated with authentic Kashmiri craftsmanship. Shop more at Luxuries of Kashmir.