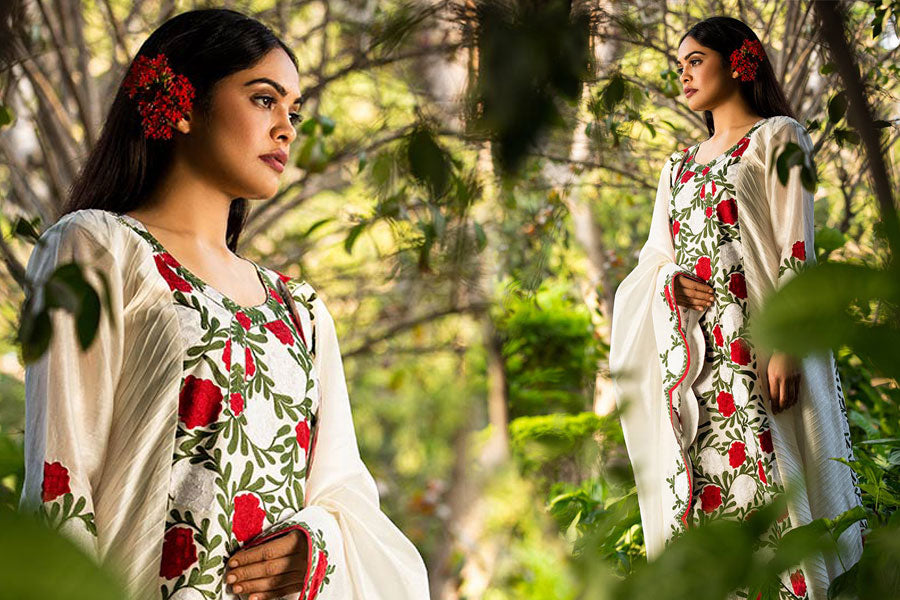 We've all grown up watching our favorite artists play Kashmiri damsels dressed in pretty Kashmiri attire clad with alluring thread embroidery, bright colors, and elegant silhouettes. Be it Sharmila Tagore Pataudi in Kashmir Ki Kali or Preity Zinta in Mission Kashmir swaying to Bumro Bumro. Every girl has imagined what it would be like to grace Kashmiri outfits and fulfill her childhood Bollywood fantasy. With changing times, trends have changed too, and today Kashmiri craftsmanship reigns on runways across the country and globally. But if one thing remains unchanged, it is the grace and charisma a Kashmiri outfit holds. With their intricate craftsmanship and eternal elegance, these outfits will continue to be every girl's dream.
ETERNAL CLASSICS
From Pherans to fusion outfits, fashion trends in the beautiful valley have evolved through the years. Global fashion brands and sustainable homegrown brands are continually deploying elements of the valley into their work, promoting the skills of the artisans of Kashmir and the essence of slow fashion - legacies that can be passed down for generations to come.
Investing in an outfit that holds a part of the Kashmiri legacy means investing in an heirloom, a classic that can be worn all year long - through seasons, through years, and through decades. Modern Kashmiri trends are on par with the concept of sustainable fashion and follow the code of the predecessors - eternal classics that stand through time.
ELEGANT SILHOUETTES
While conventional Kashmiri embroidered outfits were made from thick wool or heavy silk to combat the harsh weather of the valleys, modern-day Kashmiri ensembles are made from elegant silhouettes - lighter and flowier, to cater to lovers of the craft worldwide. From everyday casuals to festive wear, one can choose outfits crafted from organza, georgette, chiffon, art silk, and other beautiful fabrics.
EVERGREEN KASHMIRI EMBROIDERY
Over the years, Kashmiri embroidery has retained its throne as a royal work of art. A glance at Kashmiri outfits and one can comprehend the hours and skill spent on executing this fine piece of art. The various forms of Kashmiri embroidery - aari, tilla, dabka, and cutdana elevate the beauty of the outfit. Apart from the traditional embroidery, additions like embellishments, sequins, and colors add a refreshing touch to Kashmiri outfits.
3 MUST-HAVE MODERN-DAY KASHMIRI OUTFITS
An ethereal piece of art flaunting bold red floral embroidered motifs against a pristine white chanderi fabric, this suit set embodies elegance. The three-piece suit set features intricate aari work on the kurta and scalloped dupatta - a sight to behold.
A co-ord set is the ultimate modern-day Kashmiri fusion outfit to add to your wardrobe this season. The three-piece power suit features a dupion set and organza jacket festooned with vibrant aari embroidery depicting tropical elements. The outfit can brighten your day and amp up your style statement effortlessly.


Embrace the legacy of the most beautiful valley on earth with the peach sharara set ladened with elaborate puff tilla embroidery. The tasteful sharara set is an epitome of class and elegance, complete with details bound to leave your onlookers in awe.
Kashmiri fashion trends are evergreen and somehow make for the classiest festive wear. This festive season, embrace the slow fashion trend and the beauty of skillfully tailored designer Kashmiri outfits from Luxuries of Kashmir.