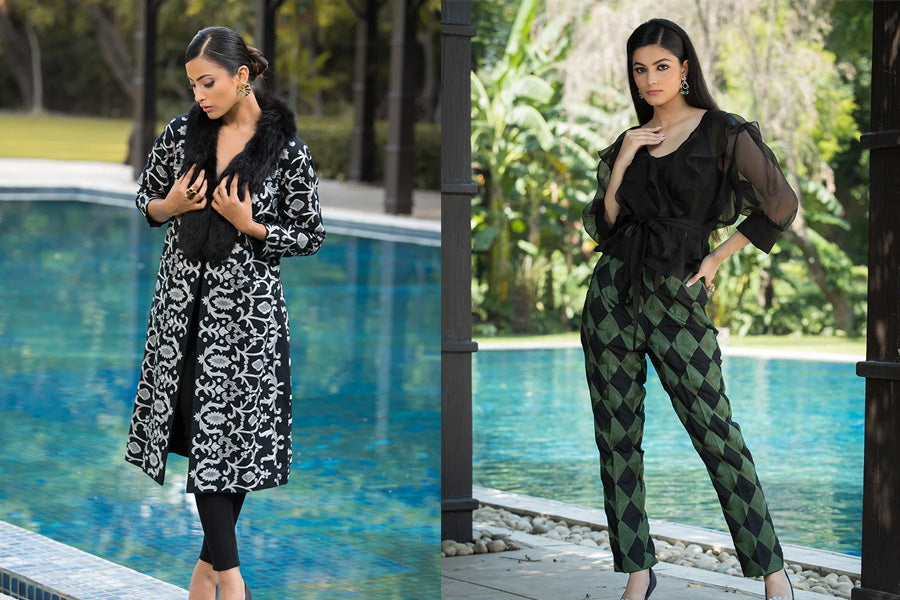 How often do we find ourselves standing in front of a closet full of clothes with nothing to wear? It is estimated that a woman only uses 20% of her wardrobe 80% of the time. While this may seem like an unrealistic number, it sadly is true. It is tempting to invest in statement pieces that are in vogue, but in reality, it is going to be a one-time-wear and end up taking up space in your closet. The solution to creating a wardrobe you will actually use is to invest in basics that double up as a multitude of outfits, creating more room for putting together more looks in a sustainable fashion.
By definition, elevated basics refer to clothing items that are considered to be classic and versatile, but also have a higher level of quality and design compared to more basic or inexpensive options. These pieces are often considered to be investment items that can be worn for many years and paired with a variety of different outfits.
Since elevated basics are also about sophistication and luxe, Kashmiri garments make for the ideal choice given the graceful fabrics, scintillating silhouettes, elegant details, and overall impression. Here are some elegant Kashmiri staples that can double up as elevated basics and make for worthwhile additions to your capsule wardrobe.
The appeal of a co-ord set is unparalleled; it is a wholesome style staple in itself but also has the potential to create multiple style statements through permutations. This co-ord set is the perfect example of an elevated basic. The set consists of a black organza top and a green and black embroidered trouser. The set is an elegant attire on its own, but can be teamed with various garments individually. The black organza top can be teamed with a pair of high-waisted black pants and heels for a sleek, monochromatic look. One can also wear the black organza top with a midi-length skirt in a neutral color, such as beige or navy, and add a statement belt for a polished look or pair the top with a black or dark-colored pencil skirt and add a pair of heels for a more formal, evening look.
Alternatively, the embroidered pants can also be teamed with a blazer and a pair of heels For a more formal look. One can also create a monochromatic look by pairing the pants with a top in a matching or coordinating color. Accessorize with a statement necklace or earrings to add a touch of elegance and glamor to the look.
A pashmina jacket is a type of jacket or wrap that is made from pashmina wool. Pashmina is a type of fine cashmere wool that is obtained from the undercoat of the changthangi goat, which is native to the high altitudes of the Himalayas. Pashmina jackets are often worn as a fashion accessory, and can be dressed up or down depending on the occasion. They can be worn with a variety of different outfits, from formal wear to casual attire, and are particularly popular during the colder months. They are considered as a luxury item as they are made from fine quality cashmere wool and can be quite expensive.
There are more than one ways to style a Pashmina jacket to create double tap-worthy looks. One can pair the pashmina jacket with a patterned top and slim-fit pants or jeans for a chic and stylish look or layer a pashmina jacket over a button-up shirt and slacks for a more formal look. The pashmina jacket is versatile and can be worn with many different types of outfits, so have fun experimenting with different styles and looks.
Head over to Luxuries of Kashmir to explore more elevated basics that can save space in your wardrobe and give you a classy edge.