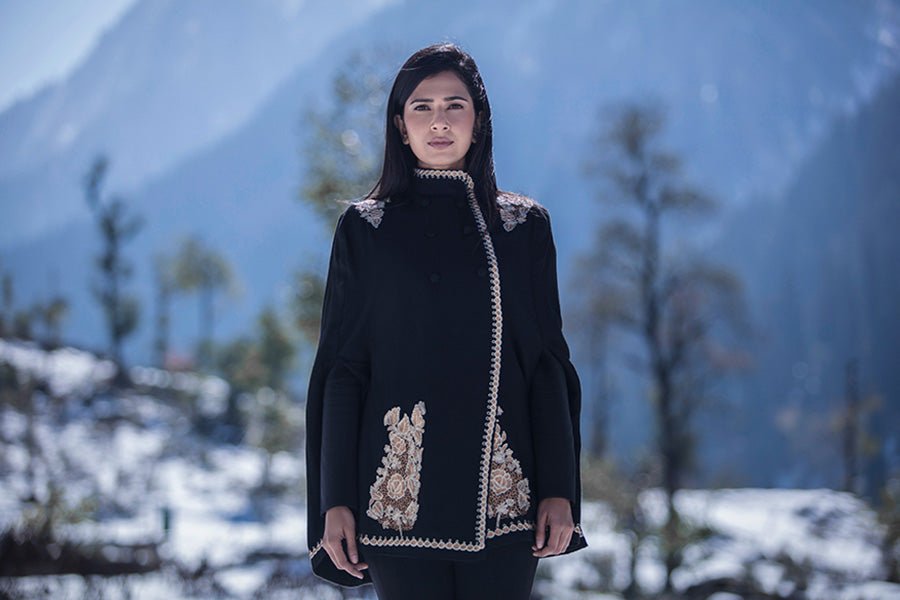 Seasons come and go but a trend that remains unbeaten is that of embroidered jackets. The fashion staple is more than a means to keep one warm when the temperatures drop, it is a style statement that makes heads turn while leaving on-lookers in absolute awe.
Kashmir is known for its natural beauty but also for the fine art of embroidery is one of a kind and like no other. Inspired by the picturesque beauty of the landscapes of the valley, the flora, and the fauna, Kashmiri handicraft embroidery is a work of art inspiring anyone who lays eyes on it. The intricate work is filled with detail and takes manual labor to bring to life this intensively exquisite artform. Embroidered jackets are an embodiment of this fine art on beautiful silhouettes. The pieces are elegant and can be used to enhance the appeal of any outfit.
How to Style Embroidered Jackets
Embroidered Jackets are versatile and can be styled with absolutely any attire. They pair well with ethnic wear and go well with western wear and make for a classic statement piece that you can flaunt anywhere, anytime.
If you are a fan of Kashmiri fusion outfits, then this baroque style longline jacket made from velvet is the ideal pick for you. The ethereal jacket is fitted to perfection and features aari tilla work in bedazzling hues of gold. The black and gold combination of this embroidered jacket makes it ideal to flaunt on special occasions.
A contemporary embroidered jacket featuring cherry blossoms, birds and oriental motifs, this pleated beauty in pristine white is a sight to behold. Laced with elegance, the dupion silk jacket is hand embroidered in a true Kashmiri fashion. The vivid highlights of the sequins add a magical touch to the jacket, making it the perfect fit for your indo-western attires.
Adding an oriental twist to your outfit is a good idea and this mandarin embroidered jacket is just the right fashion staple to help achieve the look. The embroidered jacket features a royal look with its gold aari tilla work on a soft Pashmina fabric. The sophisticated and uber classy jacket with a mandarin collar is a work of beauty with a dose of modernity. The Kashmiri jacket can be teamed with a pair of jeans or leggings for a chic look.
The magic of Kashmiri embroidery meets beautiful silhouettes of the east to bring forth this marvelous fashion staple - the overlap jacket. Made from suede and festooned with black and gold embellishments to form intricate beehive patterns on the sleeves, this contemporary jacket is an excellent pick for when you think of going the extra mile to make a statement. The black and gold embroidered jacket also features a unique neckline making it an absolute must-have in your fashion closet.
Shopping for authentic Kashmiri fusion outfits, particularly embroidered jackets is now super easy with our website - Luxuries of Kashmir. Visit us now to explore a whole range of authentic Kashmiri outfits complete with handcraft embroidery.