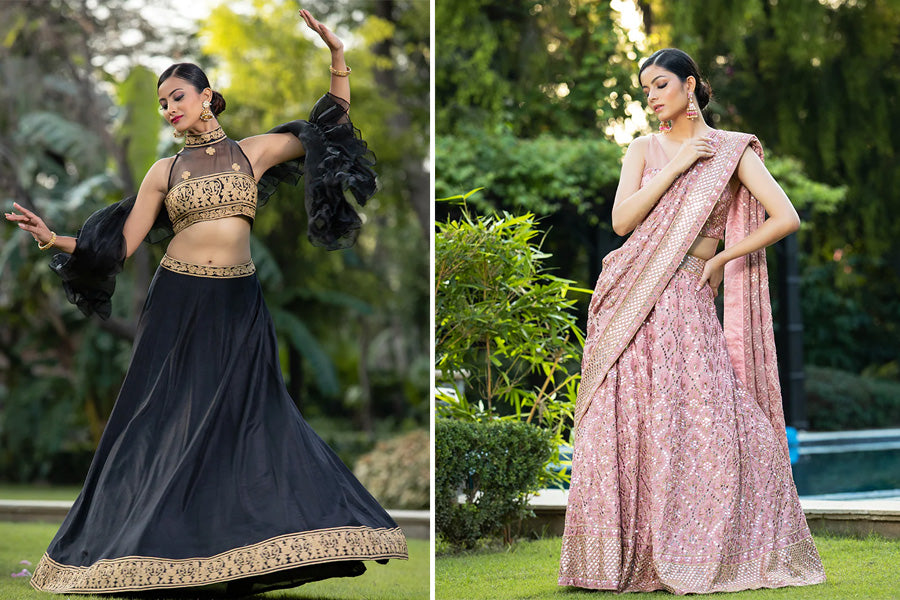 The beauty of ethnic attire can instantly make a woman look elegant. The exquisite charm of ethnic wear can highlight your regal side and add a touch of luxe to your look. When looking to make a statement, you can always count on Kashmiri ethnic outfits to give you an edge and look nothing short of perfect.
Over the years, trends have evolved and as of today, the trend is minimalistic luxe. Attires that are minimalistic yet boast highly of artisanship in their making. Kashmiri outfits tick all the right boxes when it comes to making an effortless luxe ethnic look. They flaunt the best of fabrics and silhouettes and come adorned with authentic Kashmiri embroidery. The very charm of Kashmiri fashion staples lies in their sophistication masked in simplicity.
Kashmiri fashion is no longer limited to phirans, shawls, and capes; it encompasses some of the most elegant outfits inspired by various parts of the world. When looking to make an ethnic statement, you can opt for Kashmiri lehenga sets and suit sets that capture the finesse and essence of Kashmiri craftsmanship.
There is nothing more elegant than a black lehenga adorned with splashes of gold and tailored to make you look like a dream. The dupion silk lehenga set features a silk blouse that features intricate aari embroidery. The halter neck blouse brings out your feminine side with its various textures and details. The lehenga is the epitome of grandiose and features a flared finish complete with aari tilla embroidery along the edges. The dupatta gracefully complements the lehenga set and makes for a visual treat. The ruffles add a touch of oomph, making sure that you sport an effortless luxe look.
Feminine and elegant, this coral suit features Kashmiri embroidery that is a treat to the senses. The chanderi fabric exudes a touch of royalty and the dual tones certainly add to it. Tailored to make you look like a floral dream, this suit set features silken thread embroidery along the neckline and sleeves. The well-fitted pant adds to the grace of this piece while the scalloped dupatta is adorned with more floral embroidery to make quite a statement. Overall, the brilliant hues, the intricate embroidery, and the thoughtful details make this suit a worthwhile investment if you are looking to make a luxe statement.
An elegant piece that can instantly elevate your style with its timeless charm, this lehenga set rendered in hues of old rose is a must-have if you want to make a luxe statement. The lehenga is tailored from flowy georgette and is festooned with aari embroidery for that added oomph. The blouse is a classic with its many thoughtful details while the lehenga is the epitome of grandiose. The dupatta gracefully complements the entire set enabling you to look elegant.
Making a grand statement is no longer a daunting task. Choose tasteful Kashmiri ensembles to bring out a charming side of you and adorn yourself with sheer grace and elegance. Explore more luxurious ethnic attires for your next big day only at www.luxuriesofkashmir.com.