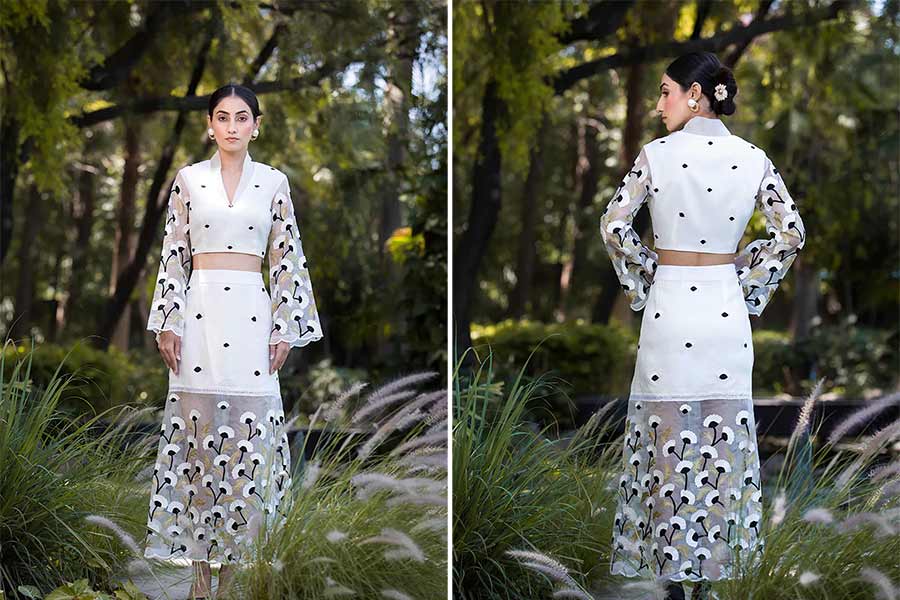 Co-ord sets are the latest trend - they are comfortable, stylish, and versatile making them the ideal choice for women who appreciate a good outfit. Our latest collection A La Mode is a meticulously curated selection of co-ord sets that combine luxurious fabrics, mesmerizing textures, and a touch of Kashmiri artistry. Get ready to embrace the allure of luxury, chic aesthetics, the intricacy of Kashmiri handcraft, and the allure of beautiful silhouettes as we dive into the world of iconic co-ord sets.
These iconic co-ord sets can easily become a staple in your modern wardrobes, effortlessly exuding sophistication and style. Whether you're seeking an ensemble for a special occasion or simply aiming to elevate your everyday style, these co-ord sets promise to become timeless investments that stand the test of time.
A Symphony of Luxury, Comfort, and Kashmiri Embroidery
Invest in timeless beauty and embrace the artistry of Kashmiri embroidery with this delightful pink co-ord set. The Rose Sorbet co-ord set is a testament to impeccable craftsmanship, luxurious comfort, and a commitment to exquisite fashion. Crafted from a luxurious crepe blend fabric, this ensemble embodies a perfect blend of comfort and sophistication.
Intricate Kashmiri embroidery adorns the edges of the cape, creating a captivating display of floral motifs. The silhouette features a boat neck design that exudes grace and charm, while the elaborate sleeves and edges add an enchanting touch, giving the ensemble a regal allure.
Opulence, Functionality, and Kashmiri Embroidery Converge
Indulge in the meticulously crafted details of this elegant co-ord set where every thread is an ode to impeccable artistry from the valleys of Kashmir. The attention to detail is unparalleled, ensuring that each element radiates with unparalleled beauty. From the gracefully embellished patterns to the intricate motifs, Indigo Eden is a masterpiece of craftsmanship.
Crafted from a sumptuous soft net fabric, this ensemble becomes a testament to the magic of colors and artisanship. Adorned with intricate floral pink aari embroidery, each delicate stitch creates an exquisite fusion of elegance and sophistication.
A Celebration of Femininity and Timeless Beauty
Discover the epitome of grace and femininity with our exquisite white co-ord set. Crafted from ethereal organza, this ensemble becomes a canvas for your inner beauty to blossom. The set features a crop top that exudes modern sophistication and a whimsical skirt that adds a touch of enchantment to your every step. Its feminine silhouette embraces your curves, celebrating your unique beauty with every movement.
Bask in the intricate details that adorn this ensemble, where black and white embroidery inspired by blooming flora cascades across the fabric. Each delicate stitch tells a story of craftsmanship and elegance, capturing the essence of timeless beauty. The meticulous attention to finer details adds to the overall allure, enhancing your charm and leaving a lasting impression.
Enrich your wardrobe with iconic and unforgettable pieces. Shop more such elegant outfits festooned with Kashmiri artisanship and beautiful silhouettes, visit www.luxuriesofkashmir.com.