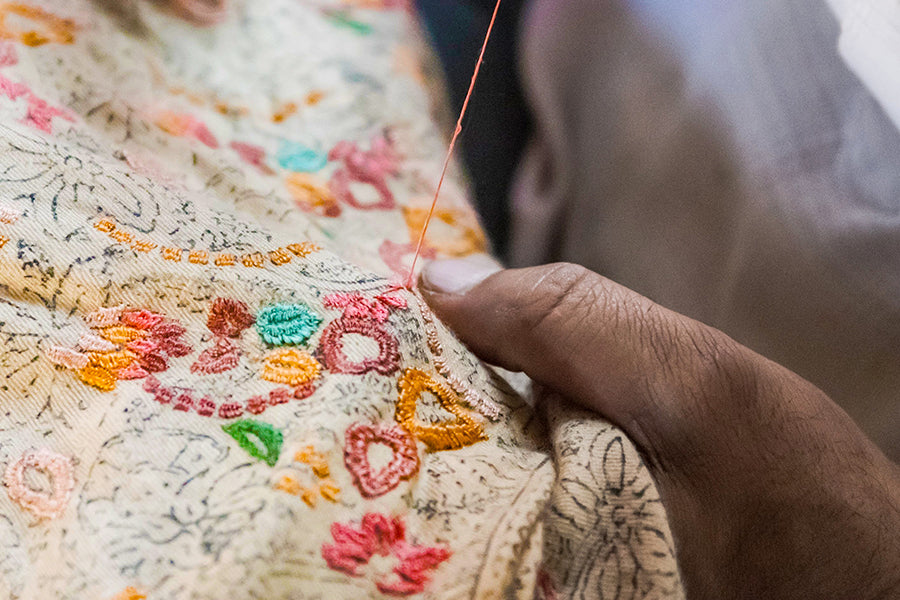 For years, Kashmiri embroidery has been the epitome of finesse and grace. The appeal of this delicately executed handicraft from the most beautiful valleys on earth reflects the sophistication of their wearer as much as it does of the artisanship of the craftsmen. The art form takes several man-hours and precision to bring to life some of the most exquisite pieces the fashion industry takes pride in.
Garments festooned with Kashmiri handicrafts would originally grace the wardrobes of the elite and the enthusiasts. But lately, Kashmiri embroidery is used in collections of A-list designers and has become more accessible. With this transition from a remote craft to a well-known craft that graces runways and makes its way into the wardrobes of the women of today, Kashmiri embroidery has come a long way.
Kashmiri embroidery is more than often a reflection of the pristine beauty of Kashmir with its postcard-like blue skies, lush greenery, crystal lakes, crisp mountain air, and the fragrance of wildflowers. It encompasses the beauty of nature and weaves stories of beauty on a canvas that is ready to wear and carry forward the story.
Generally imbibed on soft cashmere, silk, and organza, Kashmiri embroidery graces the most elegant looking silhouettes to enhance their beauty manifold. Finer fabrics like the Pashmina or organza are extremely delicate, and hence a lighter version of the famous Kashmiri embroidery is applied. Whereas sturdier bases like silk and wool host thicker forms of Kashmiri embroideries.
THE MOST CELEBRATED KASHMIRI EMBROIDERY FORMS
Tilla embroidery is a common type of Kashmiri handicraft using gold and silver threads. The origins of Tilla embroidery go back in time to the 14th century. In Iran's Zari village, the saint, Mir Syed Ali Hamdani (popularly known as Shah-e-Hamdan) migrated to Kashmir with a group of craftsmen and introduced the artform in exchange for the luxurious wool found in the region. Tilla work festoons fabrics of all kinds and extends a timeless appeal to contemporary pieces.
Locally known as Zalakdozi, Aari embroidery is a very old technique. The crewel embroidery makes use of pointed crochet or an 'aari' as the needle. Aari embroidery is usually done on cotton, wool, silk, and velvet and graces fashion essentials as well as home decors like curtains, drapes, upholstery, and bedding. The art form makes use of woolen or art silk thread.
Papier Mache embroidery is a bolder variant of the Kashmiri embroidery featuring ornamental designs using an array of different stitches, thread, and different types of colors. It uses bright-colored satin thread and a slightly thicker needle for a striking visual appeal. The motifs are outlined in black for a protruding effect.
KASHIDA EMBROIDERY
Kashida embroidery uses silken threads with a natural sheen making them profoundly beautiful. The art form uses motifs inspired by flora and fauna around the valley to intensify the beauty of the garment. Kashida is a type of chain stitch using colorful thread work mostly done on wool or cotton canvas. Kashida embroidery requires a skilled hand and a great deal of concentration.
 The valley of Kashmir features the richest culture and heritage in the world, and its embroidery is no exception. The beautiful art form is now a tool for many designers and fashion houses and is continuing to gain prominence due to its timeless appeal.