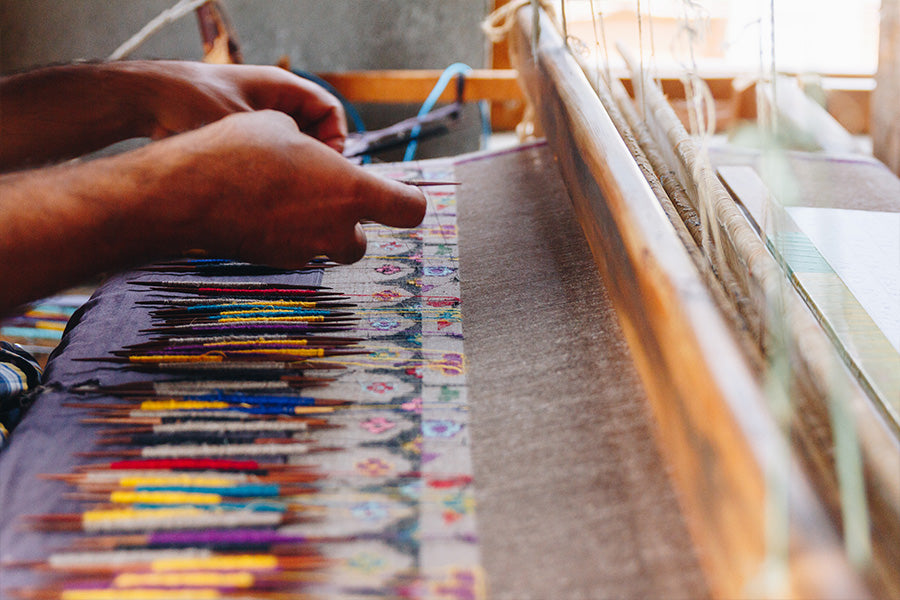 A luxurious drape adored by the most notable names in the world and a souvenir treasured by lovers of all things fine, the Pashmina is rich in history, craft and culture. With its roots in one of the most talked-about cultural melting pots, a valley that is so beautiful, it is called heaven on earth - the Pashmina shawl is a piece of royalty and the embodiment of perfection. 
THE HISTORY OF KASHMIRI PASHMINA
'Pashmina' is derived from the Persian word "Pashm", meaning soft gold. The weaving of Pashmina can be dated back to the 15th century in Kashmir when Mir Ali Hamadani, a noted saint with 700 of his finest craftsmen visited Ladakh and found soft wool produced by the Ladakhi Chanthang Mountain goats - one that is supremely soft and spells luxury with every touch.
The saint was highly impressed and decided to make a pair of socks from soft wool and gift them to the king of then Kashmir, Sultan Kutabdin. With the gift well appreciated, the saint suggested that they should start a weaving industry in Kashmir to which the King happily agreed. This marked the beginning of Pashmina making in Kashmir which turned out to be a gift to the fashion industry and to lovers of genuine craft.
THE FINER DETAILS
Pashmina is not exclusive to Kashmir; in fact, China, Mongolia, and Nepal have their own versions of Pashmina. What makes Kashmiri Pashmina a luxurious and unique collectible is the fact that it has a finesse of 12 – 13 μ and a fiber length of 55 to 60 mm. In addition to the flowy silhouette, Kashmiri Pashmina flaunts the famous handcraft embroidery inspired by the flora and fauna of the beautiful valley which takes a lot of skill and works to execute.
The extremely delicate and super-soft texture of the luxurious hand-spun fabric in addition to the intricate handicraft of skilled craftsmen of Kashmir makes it the most desired and priced cashmere in all of the world. The embroidery that goes into these shawls can only be executed by a lineage of skilled artisans who have been practicing the art of handicraft embroidery on delicate Pashmina wool.
The approximate craft time put into producing a simple pashmina shawl complete with handicraft embroidery is about 180 hours
Pashmina shawls obviously come priced higher than the conventional woolen shawls; the reason being the procurement of the rare wool from altitudes as high as 14,000 ft, cleaning and hand spinning the wool into flowy drapes, hand-dyeing the fabric into colors of choice and finally festooning the shawl with intricate embroidery.
Pashmina shawls bring with them an air of warmth, comfort, and sophistication. The eternal charm of these luxurious drapes has made them a must-have among the affluent. The growing demand and scarce supply of Pashminas are being bridged by Luxuries of Kashmir aimed at bringing the spirit of Kashmir directly to lovers of the craft.