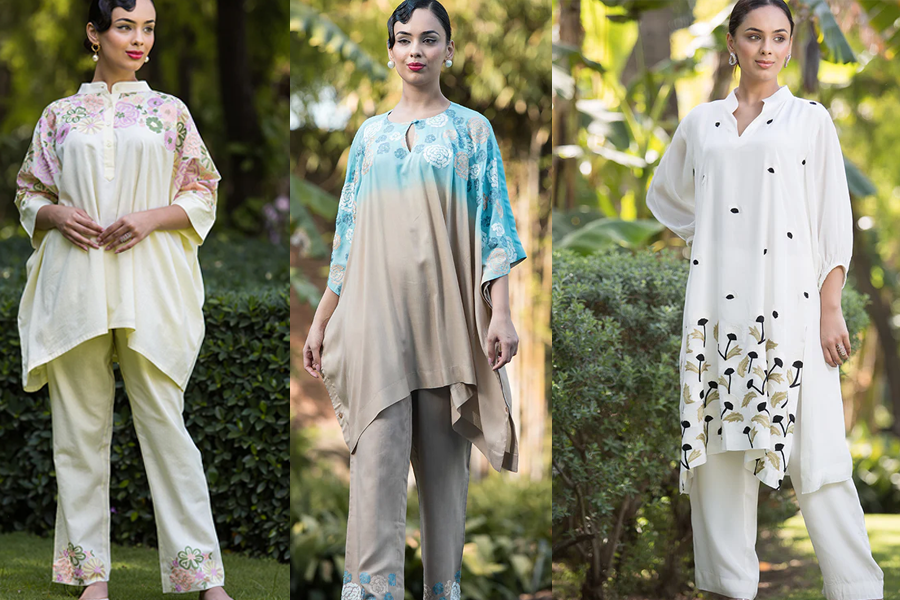 As the mercury begins its annual ascent and the warm embrace of summer envelops us, it's time to revamp our wardrobes with luxe Kashmiri pieces that combine elegance and comfort. When it comes to striking this balance, few clothing styles can match the allure of Kashmiri fashion. From the timeless ethereal co-ord sets to the up-and-coming trendy pieces, the world of Kashmiri clothing brings together tradition and modernity in a delightful fusion that's perfect for the hot months.
Lets delve into the must-have Kashmiri clothing essentials that promise to keep you cool and stylish throughout the season.
Minimalistic accents, maximum comfort 
Indulge in the enchanting allure of our lemon yellow cambric cotton co-ord set, a testament to meticulous craftsmanship and refined taste. This ensemble radiates elegance, featuring a mid-length draped Chinese band adorned with a graceful button for an added touch of sophistication. The outfit's charm is further heightened by the delicate embroidery that graces the sleeves, shoulders, and neckline, infusing every stitch with a sense of intricate artistry. Whether you're strolling through sunlit gardens or attending a delightful summer soirée, this co-ord set captures the essence of sophistication while celebrating the vibrant spirit of the season. Elevate your style with this exquisite piece, where each detail is a brushstroke of finesse, harmonizing contemporary design with timeless grace.
Monochrome goodness, relaxed vibe 
Immerse yourself in the enduring allure of a true masterpiece that pays homage to the seamless fusion of timeless design and modern flair. The asymmetric shirt takes center stage, adorned with intricate silken thread embroidery that emanates an air of refined sophistication. Enchantingly framed by a Chinese band and a V-neckline, it weaves an alluring narrative of elegance. The bell sleeves, complete with elastic edges, bestow a whimsical yet graceful silhouette, celebrating femininity in its purest form. Complementing this exquisiteness, the pants seamlessly match with a straight fit and side pockets, thoughtfully lined with comfortable cotton for unbridled ease. Every element of this ensemble harmonizes to create an ensemble that transcends eras, inviting you to revel in the artistry of classic charm interwoven with contemporary allure.
Cool hues, comfortable accents
Discover a mesmerizing blend of blue and khaki that lays the foundation for enchanting silhouettes, impeccable tailoring, and exquisite artistry. This set embodies a harmonious union of hues that ignites the canvas of fashion with a touch of magic. The comfortable top is a canvas of intricate artwork, a testament to the dedication of fine craftsmanship that weaves a tale of elegance and creativity. Its counterpart, a straight-cut pants, ensures unparalleled comfort, completing the ensemble with an essence of effortlessness. Together, they form a symphony of style and comfort, where every thread is meticulously woven to create a masterpiece that encapsulates both innovation and timelessness. Elevate your wardrobe with this unique fusion of colors and forms, and embrace the beauty that arises from the intersection of exceptional design and comfort.
Discover more cool and comfortable summer basics that you can flaunt this season and make head-turning statements. Visit www.luxuriesofkashmir.com to shop!