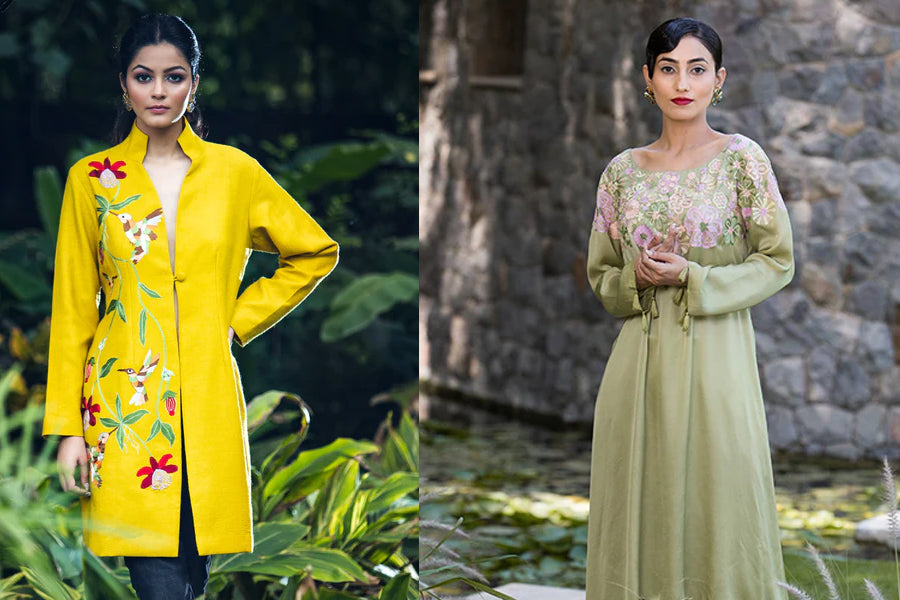 As the holiday season unfolds, the excitement of planning a well-deserved vacation is simply irresistible. If you've already chosen your dream holiday destination, you're now on the verge of embarking on an unforgettable journey. But here's the deal – it's not just about the destination; it's about looking and feeling your absolute best while creating picture-perfect memories to cherish for a lifetime.
Across the globe, the seasons are changing, with some places embraced by the crisp embrace of chilly winds, while others still bask in the warm, sun-kissed vibes. No matter where you're headed, your vacation wardrobe plays a pivotal role in making your experience memorable. The key to getting those envy-inducing, Instagram-worthy pictures lies in your style, and we're here to help you ace it.
We have time and again showcased the elegance of Kashmiri staples and how they make for the perfect style staples and a long-term investment. Today, we delve into how these Kashmiri luxe pieces can make for the perfect vacation ensembles. Join us as we delve into a curated collection of holiday wardrobe staples that will have you looking fabulous wherever you go. Whether you're jetting off to a winter wonderland or a tropical paradise, we've got you covered.
Co-ord sets have gained immense popularity in recent times for their versatility and elegance. When traveling, opting for a luxury co-ord set with a touch of Kashmiri grandiose is the perfect way to make a style statement that's both comfortable and eye-catching. These sets often include a beautifully tunic or shirt teamed with a pair of matching trousers or a skirt. The soft fabrics will keep you cozy on chilly winter evenings in the valley, while the embroidery will add a touch of opulence to your outfit.
When it comes to choosing the perfect attire for your next holiday, Kashmiri embroidered shirts stand out as an exquisite choice. These shirts boast stunning silhouettes that effortlessly blend comfort with style. The hallmark of these garments is their elegant embroidery, a true testament to the rich artisanal heritage of Kashmir. Each stitch and pattern tells a story of intricate craftsmanship passed down through generations.
Whether you're exploring historical landmarks, or simply savoring a cup of chai amidst breathtaking scenery, these shirts will not only keep you comfortable but also make a fashion statement that's both culturally resonant and globally admired.
When contemplating your attire for the upcoming holiday, consider the allure of Kashmiri embroidered capes and jackets. These garments offer a unique blend of style and comfort, with their exquisite silhouettes and elegant embroidery. The intricate designs are a testament to the unmatched craftsmanship of Kashmiri artisans, weaving stories of tradition and culture into every stitch. What sets these capes and jackets apart is not just their aesthetic appeal but their cozy and fuzzy warmth, making them perfect style staples for cooler destinations. Whether you're traversing the snowy landscapes of the Himalayas or enjoying a crisp evening by a tranquil lakeside, these cozy and elegant pieces will keep you snug while adding a touch of timeless beauty to your holiday wardrobe. Choosing Kashmiri embroidered capes and jackets is not just a fashion decision; it's an opportunity to wear a piece of art and culture, embracing the legacy of the region's craftsmanship.
These Kashmiri luxe staples are not just garments; they are a piece of art that captures the essence of traditions, making them a meaningful addition to your holiday wardrobe. Shop your own at www.luxuriesofkashmir.com