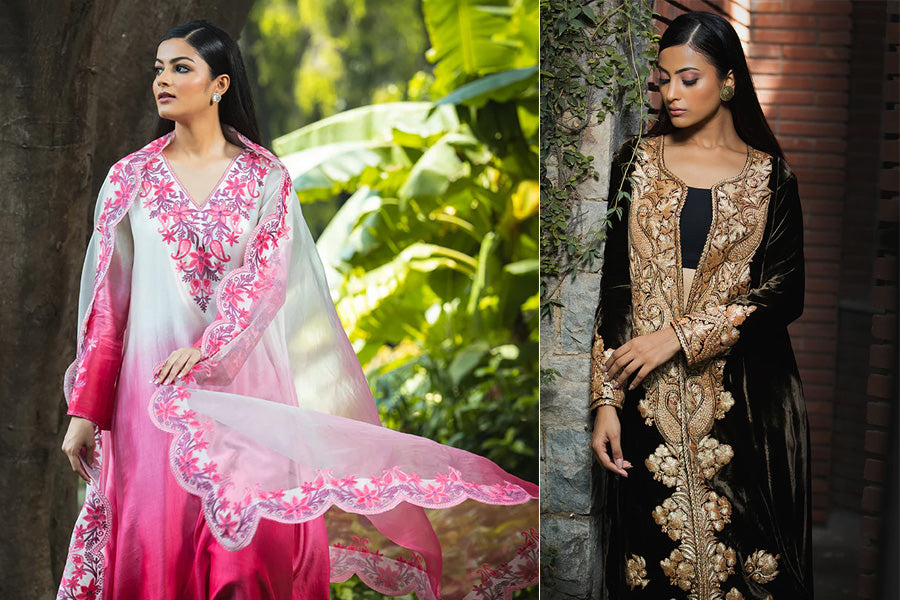 Kashmiri handcrafted garments are timeless pieces that can be incorporated into any woman's wardrobe. Kashmiri outfits are a blend of traditional craftsmanship and contemporary style. They offer a unique and authentic touch to any wardrobe. Handmade by skilled artisans using natural materials, these garments are not only stylish but also sustainable and eco-friendly. Additionally, buying authentic Kashmiri garments supports local communities and helps preserve traditional cultural practices. The intricate designs and patterns found on these garments are a testament to the region's rich cultural heritage.
​​Kashmiri outfits are known for their intricate designs, luxurious materials, and traditional craftsmanship. The use of fine cashmere wool, soft pashmina, and delicate embroidery make these garments both comfortable and stylish. The intricate patterns, inspired by the region's rich cultural heritage, are created using techniques passed down from generation to generation. The time-honored process of hand-weaving, dyeing, and embroidering each piece results in unique, one-of-a-kind garments.
Kashmiri-style staples like soft cashmere jackets, handmade capes, and tunic tops are versatile and can be dressed up or down. Embroidered jackets and handcrafted phirans bring texture and traditional elegance to any outfit. These seasonless style staples are not only fashionable but also sustainable, as they are made with care and precision by local artisans.
 The Kashmiri Pashmina Cape in blue with floral motifs in a silken thread is a fine example of traditional Kashmiri craftsmanship combined with contemporary style. Made from soft and luxurious pashmina wool, this cape is perfect for layering and keeping warm during cooler seasons in addition to being a go-to addition in the winter season.
 The cobalt blue is eye-catching and versatile, making it easy to pair with a variety of outfits. The intricate floral motifs, inspired by the region's rich cultural heritage, are embroidered by hand using traditional techniques namely silken thread embroidery, making the cape a unique addition. Whether you're looking for a statement piece or simply a cozy and stylish layer, this Kashmiri pashmina cape is a must-have addition to any wardrobe.
The black velvet jacket with golden embroidery is a stunning illustration of classic craftsmanship fused with modern elegance. The rich black velvet provides a bold contrast to the intricate golden embroidery, which is inspired by Kashmir's cultural heritage. The jacket is hand-embroidered by skilled artisans, making it one-of-a-kind. The luxurious golden threads used for the embroidery are carefully selected for their shimmer and durability, adding a touch of glamor to the jacket. The combination of rich velvet and intricate embroidery makes this jacket a perfect statement piece for any special occasion or even for elevating your everyday look.
The black Kashmiri velvet jacket with golden embroidery is a timeless piece that will remain in your wardrobe for years to come.
 This coral and white Kashmiri salwar suit is a beautiful traditional outfit inspired by the beauty of the valleys of Kashmir. It features intricate embroidery, in vibrant hues, along the neckline, and dupatta. The suit is made of soft, lightweight chanderi silk and features a dual-tone coral and white kameez paired with a coral salwar and a dupatta that features embroidery along its scalloped borders. This attire is perfect for special occasions and is sure to make a stylish and elegant statement. The use of vibrant coral and crisp white creates a stunning contrast, while the intricate embroidery adds a touch of sophistication.
The specialty of Kashmiri outfits lies in the combination of traditional technique and modern design, making them a standout choice for those who appreciate timeless fashion. The use of natural fabrics and age-old artistic methods makes these Kashmiri outfits not only fashionable but also sustainable and eco-friendly. Shop more seasonless staples from Luxuries of Kashmir.