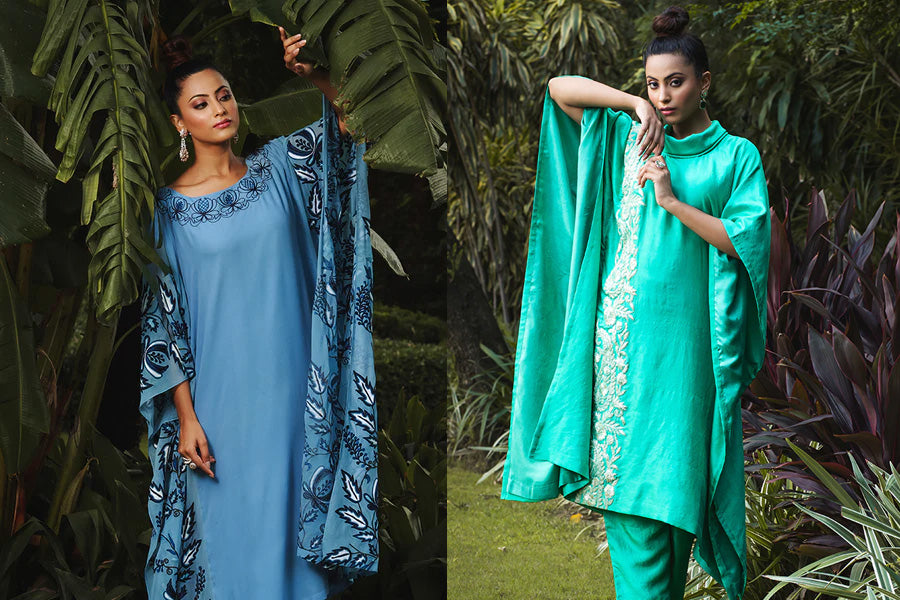 Summer is right around the corner, which means it's time to refresh your wardrobe with soiree-ready ensembles from around the world. This summer, choose classics from the most beautiful mountains on the face of the earth, where beauty is a way of life and luxe flows through fabrics while the artisans accentuate attire with traditional handcraft. The vivid colors, intricate embroidery, and feminine silhouettes are ideal for the summer, a great investment that can reap benefits down the years.
A whimsical amalgamation of dreamy hues and feminine silhouettes, this co-ord set is a summer soiree outfit that is sure to turn heads. Rendered in a beautiful shade of lavender and tailored to perfection, this tabby silk set boasts excellent craftsmanship and detail. The dual-tone A-line kurta features handcrafted silken thread embroidery depicting flora in bloom. The gradient co-ord set seamlessly blends form and fusion, resulting in a delightful ensemble. The kurta is complemented by a well-tailored bottom that completes the attire and gives it a lasting impression.
The aquamarine kaftan set is a beautifully crafted ensemble, tailored to perfection for a refined look. The set combines delightful tones and accents, making it ideal for summer soirees. The dupion silk kaftan features a flattering cowl neck, elegant flared sleeves, and intricate tilla embroidery. The set is complemented by a pair of well-fitted straight pants in matching hues of aquamarine, completing the ensemble with a cohesive and polished look.
Step out in style with this dreamy gray jumpsuit crafted from flowy georgette and embellished with sequins, pearls, and a touch of elegance. The contemporary outfit is accentuated with a beautifully decorated halter neck, adding a sophisticated charm to the look. The detachable belt complements the jumpsuit perfectly, giving it a tailored finish. Perfect for any occasion, this jumpsuit offers a blend of comfort and luxury, making it a versatile choice.
Make every occasion extraordinary with a blue georgette kaftan that looks like it came straight out of a dream. This fusion outfit is designed with a luxurious touch, and the generous scattering of blue floral embroidery adds a royal touch. The elegant kaftan is perfect for any special occasion, and the attention to detail in the intricate embroidery makes it stand out. Whether attending a wedding or an evening event, this blue georgette kaftan is sure to make a lasting impression and leave you feeling like royalty.
Incorporating Kashmiri outfits into your summer wardrobe is a great way to add a touch of elegance and unique style to your fashion choices. These beautiful ensembles feature intricate embroidery, luxurious fabrics, and vibrant colors, making them perfect for any soiree or event. Investing in Kashmiri outfits can provide long-lasting value, as they offer timeless appeal and can be worn for years to come.
With a variety of styles available, there's a perfect Kashmiri outfit for everyone, so why not add one to your summer wardrobe and make a statement at your next event? These beautiful summer staples are a must-have addition to any fashion-conscious person's wardrobe.