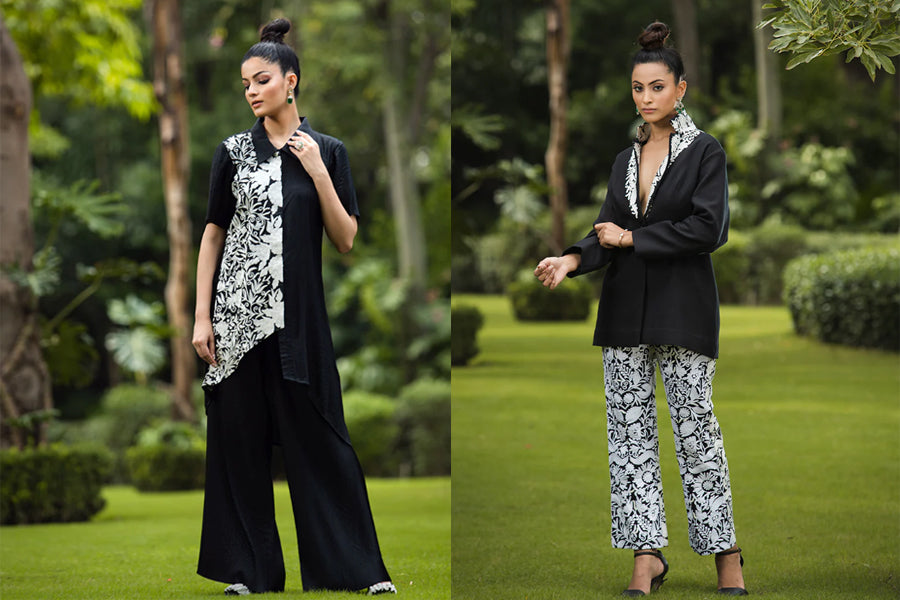 As 2022 comes to an end and 2023 lies ahead with hopes and aspirations, it is time to reflect on the fashion choices and style statements to be made in the coming year. The year is changing, and the trends are changing, but some classics are bound to make their way into your wardrobes in 2023 too - these co-ord sets are classic Kashmiri staples that transcend the concept of fast fashion and fast trends, these are staples that are evergreen, sustainable and potential heirlooms that you can keep till the end of time and pass it on as well.
Making 2023 a year filled with grace and elegance is simple, pick out some of these timeless pieces and festoon your wardrobes with the rich heritage of Kashmiri artisanship. We recommend investing in the following co-ord sets for a rather voguish year ahead.
CO-ORD SETS - co-ord sets are a two-piece ensemble that seamlessly blends patterns, shapes, and textures to make an outfit so elegant that you turn heads with every step you take. Kashmiri co-ord sets are all the rage now given just how smart they are. The appeal of these timeless staples is unmatched and you can effortlessly make a stunning style statement with this beautifully matched duo.
Luxuries of Kashmir Recommends
An ode to the night sky where everything seems beyond beautiful and the possibilities seem endless, the Aurora co-ord set is an elegant amalgamation of silhouettes and imagination. The set features a feminine top tailored from organza where the ruffles and delicate details capture the eye and heart alike. This is teamed with a pair of green and black trousers carefully accentuated with silken thread embroidery. The co-ord set is complete with a belt that ties everything up with perfection.
There is beauty in nature and its laws, the way they function with ease and make a strong impact - this is the inspiration behind the Yin Yang Co-ord set - a monochrome set tailored from finely pleated silk and festooned with intricate embroidery. Inspired by nature and its beauty, the shirt features floral motifs and delicate artwork on one panel of the asymmetric shirt. The matching, flowy wide-legged pants complete the set and give it a regal look.
There is always something to look forward to; in good and in bad - a silver lining that draws hope. Yet another monochrome miracle to add to your collection is this power suit tailored for the ambitious woman in you. The black and white set is rendered to perfection in dupion silk, and tailored for sophistication with intricate embroidery along the collar and the entire length of the pants. The classy construction of this set makes it a timeless piece to invest in.
The new moon signifies new beginnings, something to look forward to, and a hopeful future. This set is inspired by the essence of new beginnings. The new moon co-ord set amalgamates monochrome tones inspired by the waxing and waning of the moon and floral motifs that signify beauty. The two-piece set is tailored from rich tabby silk and accentuated with silken threads for a timeless appeal.
Add more co-ord sets to your wardrobe and step into a stylish year with the Luxuries of Kashmir. Shop now.