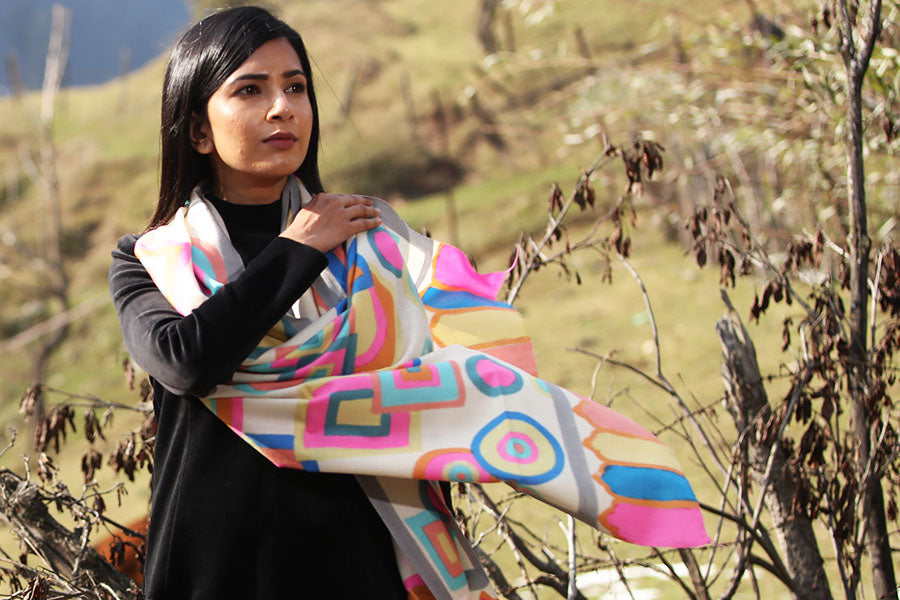 Pashmina stoles are a great way to add a layer of sophistication to your summer outfit in the most effortless and elegant manner. Summer stoles have been gaining popularity over the years and Pashmina stoles, more so. Made in the heavenly valley of Kashmir, these delicate and lightweight drapes make for delightful additions to your summer ensemble.
SUMMER PASHMINA
When one thinks of the Pashmina, one thinks of a winter cover-up to keep one warm in the chilly evening breeze, but the Pashmina is more than just a winter drape. Summer Pashmina is gaining admiration due to its feather-light texture and supremely soft touch; not to mention the elegance it brings to the table.
While Pashminas are largely considered as a winter staple, what needs to be considered is that Pashmina is not made from just any kind of wool, it is made from the soft wool of the Changi goat found at high altitudes in the valley. The texture of this wool is supremely soft to touch and possesses an air of luxury to it. Hand-spun to perfection, Pashmina is flexible and non-absorbent - it does not absorb sweat like cotton, instead lets it evaporate, keeping one cool, sweat-free, and odor-free. Pashmina is a natural insulator that provides warmth in the winter and keeps cool in the summer. This makes Pashmina a sustainable choice for all seasons.
CHOOSING SUMMER PASHMINAS
Opt. for stoles: Pashmina stoles are the perfect summer staple. The feather-light nature of Pashmina stoles in addition to the lighter embellishments like hand painting as opposed to heavy embroidery makes them an ideal choice to keep cool while looking your classiest.
Opt. for light colors: Lighter colors reflect light thus keeping one cool even in the summers. Opt. for lighter tones and pastels that are not just a treat to the eye but keep you looking and feeling good all summer day long.
Know your fabric: Pure Pashmina is a great choice to beat the heat, however, some stoles come blended with silk. Silk is a breathable material and natural. A composition of 70% pashmina and 30% silk is often advised to make the stoles last longer.
A pure Pashmina shawl in beige tone hand painted to perfection with geometric shapes in vivid colors depicting the beauty of life. The playful tones of bright and cheery pink, blue, yellow, and orange instantly catch the eye and instill a deep sense of happiness with their cheery notes.
An elegant handwoven stole featuring ethereal embroidered motifs of red and gold birds. The soft Pashmina stole symbolizes energies and power with its simple yet significant silhouette. The legendary Tilla embroidery makes its presence prominent on the soft wool.
Uncover the whimsical touch of butterflies, colors, and magic on a pure Pashmina hand painted stole ideal for your summer adventures. The soft weave features the radiance of nature in its purest form making it the ideal summer investment.