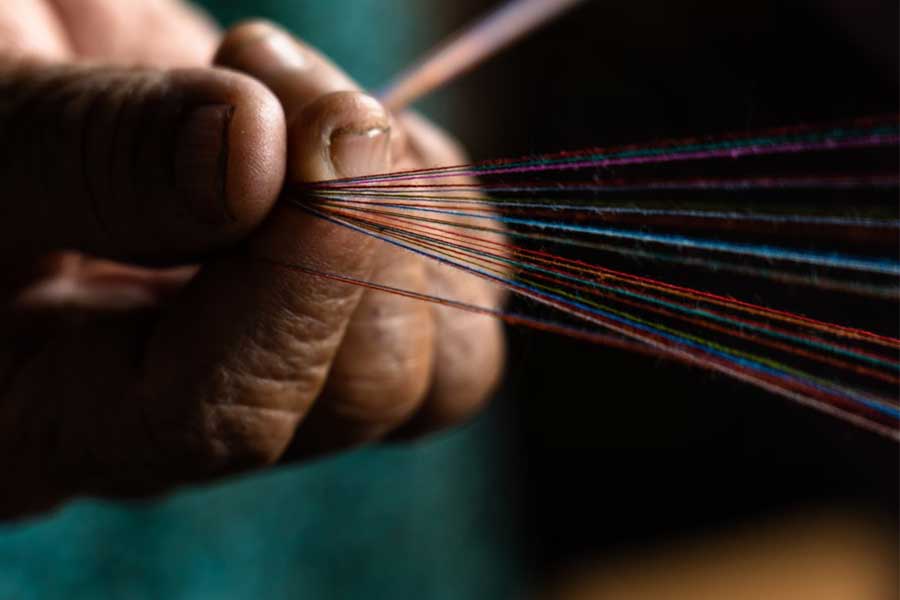 Kashmiri garments are as beautiful and alluring as the lush valleys it hosts. The intricate craft is often inspired by nature and takes skilled artisans to execute. Over the years, this invaluable work of art has made its way to international runways and inspired renowned luxury fashion brands. Kashmiri embroidery catches the eyes of those that have a taste for all things fine and continues to be essential in bespoke pieces of clothing that adorn wardrobes of the elegant.
The Kashmiri handicraft of embroidery continues to grace garments and fabrics alike to bring forth some exquisite pieces that compliment the wardrobes of the tasteful. Whether you choose to flaunt these fine pieces at a family gathering and bag praises, or make a fashion statement on your feed and get those likes soaring, Kashmiri fusion outfits laced with a generous helping of Kashmiri embroidery will do wonders.
Kashmiri fusion outfits are the ideal picks when it comes to making a head-turning style statement. The ethnic pieces come with a contemporary twist and an air of modern fashion, just the right blend to make a unique and statement-worth entry. Fusion outfits often feature fabrics that have rich heritage sewn into modern-day silhouettes and adorned with intricate embellishments - in the case of Kashmiri fusion outfits - the age-old and much-loved art of handcraft embroidery.
Fusion outfits signify the coming together of cultures and these Kashmiri Fusion Outfits are a beautiful amalgamation of the culture of Kashmir with modern silhouettes and fine handcraft.
Made from the soft and shiny wool of the Carpa Hicus, a goat found in the Himalayan ranges, pure Pashmina shawls have the ability to instantly elevate an outfit's style quo. The Kashmiri Pashmina is a fine collectible one can find in every fashion enthusiast's wardrobe and can even be considered a smart style investment that lasts ages together. The soft silhouettes combined with intricate embroidery that tell a story in itself can be flaunted with any attire of choice. The Pashmina shawl with its ethereal beauty is a style staple loved globally.
Pashmina shawls are considered a symbol of sophistication and royalty. The luxury drape has over the years gained a reputation for being a one-of-a-kind add-on to outfits. So whether you decide to invest in one for yourself or gift it to someone beloved, this is a worthwhile buy.
Shopping for authentic Kashmiri garments comes with its own set of challenges - for one, procuring products that are genuine. At the Luxuries of Kashmir, we promise to bring our patrons the finest and most authentic Kashmiri handicraft embroidery products; be it alluring Pashminas or breathtaking fusion outfits. Shop at ease on our online portal knowing that you are investing in original Kashmiri craft - one that you can pass down as a legacy.