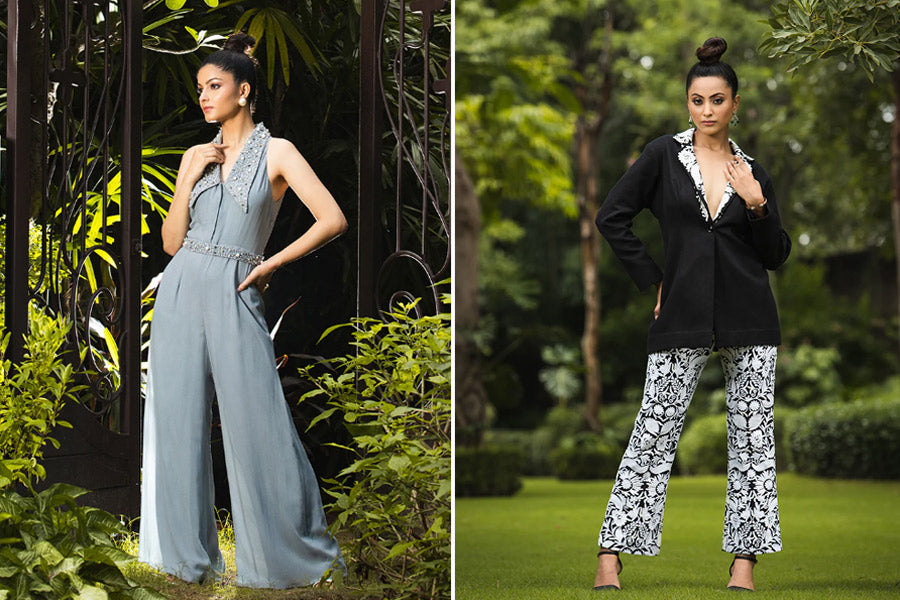 Winter is a great time to make a stylish statement - more so with Kashmiri staples that ooze elegance and charm with their traditional touch and modern-day silhouettes. Moving away from the conventional phirans, shawls, and coats, contemporary Kashmiri outfits from Luxuries of Kashmir are a stunning option to explore this winter. The Twilight collection offers a plethora of contemporary styles that work extraordinarily well in making a statement that lingers on. 
LUXURIOUS ENSEMBLES FROM KASHMIR
Kashmiri outfits are truly timeless - the careful selection of fabrics, the hearty topping of authentic Kashmiri embroidery, completed with the charming handicraft of the valley makes them heirloom pieces that you can pass on to the generations to come.
Traditionally, Kashmiri clothes were made to protect the women folk from the harsh weather conditions but were beautifully adorned by Kashmiri embroidery nevertheless. As the years went by and the world caught on with the beauty of these marvelous staples, Kashmiri fashion evolved and accommodated a more contemporary style.
The new styles featured modern silhouettes but retained the essence of Kashmir through the artwork - the embroidery and the handicraft.  It still takes skilled artisans to execute these contemporary outfits and bring them to life. The difference is that these styles are an embodiment of the spirit of Kashmir and the aspirations of a modern woman.
CONTEMPORARY STYLES FROM THE VALLEY
Contemporary ensembles from Kashmir include a plethora of unique styles ranging from jumpsuits to fusion suits and co-ord sets. While the selection is vast, here are some of our favorite styles that will make the cut this year as styles to look out for.
FUSION OUTFITS
Fusion outfits are often a fine amalgamation between modern silhouettes and age-old elements that have been tastefully incorporated to retain the essence of Kashmir. Fusion outfits always find their place in the wardrobes of fashionistas and divas for their versatile nature and unique style appeal. A fusion piece is most often a combination of two or more statement pieces that sit well together and make for one stunning outfit that makes heads turn.. Explore Fusion Outfits
CO-ORD SETS
Co-ord sets simply put are power suits for women but with accentuations of authentic Kashmiri embroidery. They are a combination of two garments that complement each other and make for an outfit that is modern, sophisticated, and elegant. These stylish co-ord sets are rendered in feminine silhouettes and festooned with Kashmiri craftsmanship of various forms to create elegant masterpieces that are unique.. Explore Co-ord Sets
JUMPSUITS 
Jumpsuits are the ultimate style investment if adding substance and sophistication to your wardrobe is your goal. The one-piece wonder is crafted to accentuate the curves and add a dose of unmatched style to your personality. Jumpsuits are a great way to elongate your legs and give yourself that model-like look with the added glam of Kashmiri artisanship. The runway-ready style immediately accentuates your look and makes for a wonderful addition to your fashion closet.. Explore Jumpsuits