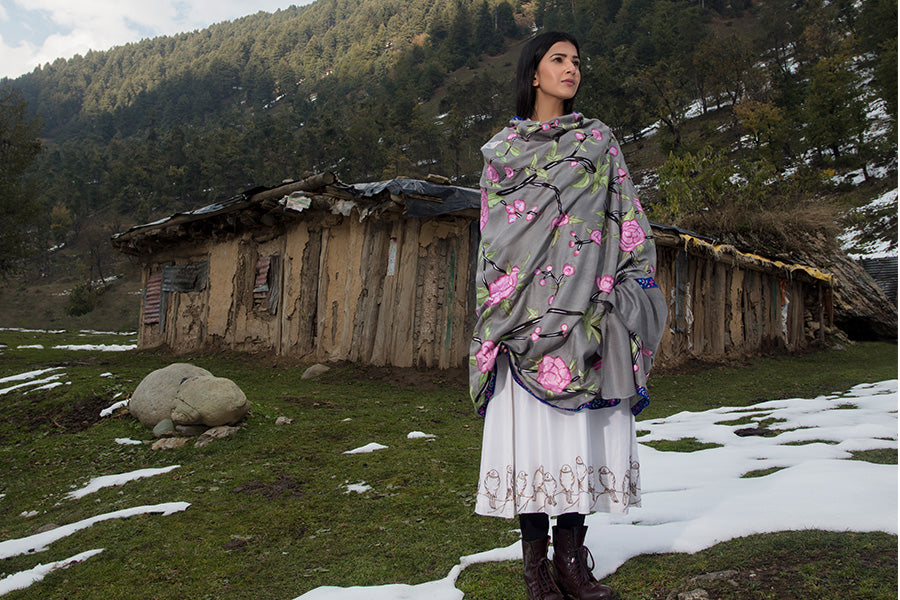 Hailing from Kashmir, the treasure trove for luxurious handcrafts, Pashmina shawls are considered a symbol of sophistication and royalty - an elegant style staple that every fashion enthusiast and lover of the craft dreams of owning. The craft of weaving these magnificent drapes to life has been passed on through the centuries birthing some very exquisite pieces that can transform any outfit and add a layer of grandeur to one's look. Pashmina shawls have been known to festoon royalty - kings, queens, and nobility; and now, they have become the ideal pieces to upgrade your trousseau with.
Kashmiri Pashmina Shawls are crafted to offer a touch of elegance with their intricate detailing on a super-soft and luxurious silhouette made from the precious wool of Carpa Hircus, a goat found at high altitudes of about 15,000 feet across the Himalayan range. The procuring of wool, hand-spinning, weaving, and embroidering this masterpiece takes many days, unmatched effort, and manual labor of a number of artisans making the Kashmiri shawl a worthwhile addition to your luxury collection and a grand gesture when considered a gifting option.
If you are considering the idea of investing in this beautiful work of art or thinking of bestowing a loved one with this valuable masterpiece, here are a few pieces we recommend.
THE BEST KASHMIRI SHAWLS ONLINE - OUR TOP PICKS
A magical song of hand-embroidered birds and motifs on a luxurious maroon silhouette, this Pashmina shawl sings praises of nature's bounties and of Kashmiri artistry. The pure Pashmina shawl is a labor of skilled handcraft and thoughtful design blended together to birth a beautiful piece that is both modern and traditional - a rare combination.
A reflection of the authentic Kashmiri art and fine craftsmanship, this black pashmina shawl is a bespoke piece complete with opulent birds of paradise flocking across a luxurious, soft, and statement-worthy silhouette. The Kashmiri shawl is versatile and yet a classic piece that oozes elegance in every detail.
A testament of Kashmiri craftsmanship and labor of creativity, this charcoal grey Pashmina shawl is nature's gift to the one with fine taste. The shawl showcases exquisite details and vivid colors that are a true treat to the eye. The bright blue embroidered border and the brilliant green scenic embroidery along with the floral motifs add a dose of magnificence.
A bright addition to your autumn days and evenings, this pure Pashmina shawl is rendered in a classy tone of beige and brown complete with a vibrant blue hand embroidered border, elegant floral and leaf motifs and elaborate details in between.. This Kashmiri shawl is a work of art with its luxurious silhouette and intricate detailing, making it a beautiful investment.
Despite the craft being age-old and passed down through generations, the Pashmina shawl has never failed to keep up with the trends of the modern day. Our handcrafted Pashmina shawls are authentic, unique and a testament to the Kashmiri spirit. Shop the latest Kashmiri shawls online from Luxuries of Kashmir and experience genuine craftsmanship at its best.