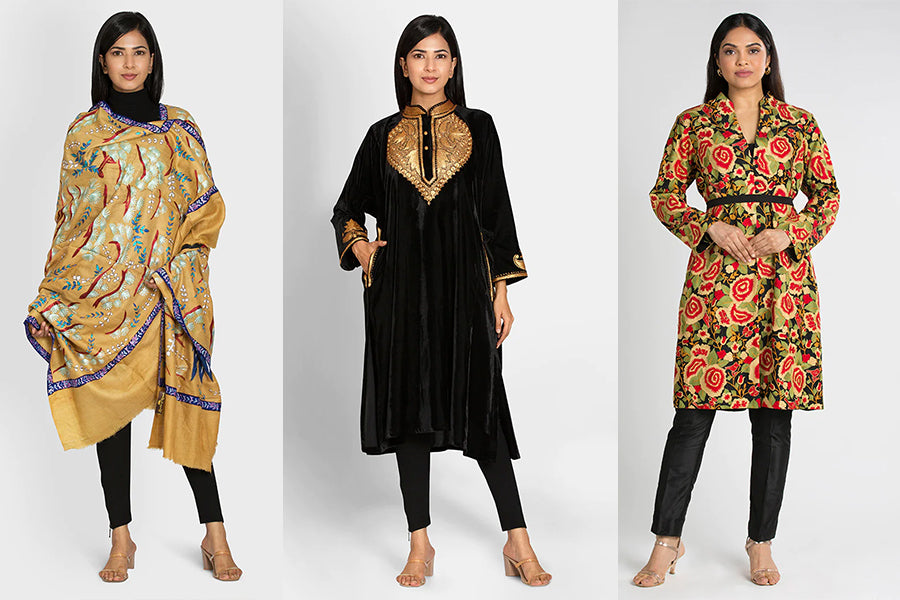 The time-honored craft of Kashmiri embroidery has made its name throughout the world. With intricate details and world-class craftsmanship to vouch for the beauty of this art, a new season awaits with promising new trends executed by the skilled artisans of the valley, yet again singing hymns of praise of the valley that is undoubtedly a treasure trove of heritage and fashion.
Being a valley that is mostly covered in snow and on the brighter days still sees the chilly breeze sing songs of beauty, Kashmiri fashion is rendered to withstand the cold and harsh temperatures. The ladies of the valley usually clad themselves in thick coats, shawls, and pherans to keep warm but also remain close to their culture. Kashmiri embroidery is often seen as a staple in all these pieces, quietly adding to the beauty of the outfits and giving them a dose of majesty.
KASHMIRI EMBROIDERY - AN ARTFORM IMMERSED IN HERITAGE
Kashmiri embroidery has a very rich history and is steeped in tradition. The art of embellishment on fabrics with intricate designs and patterns dates back to the Mughal court in India when gorgeous Kashmiri designs were created by local artists. Evolving over time, these intricate patterns now feature prominently on many traditional wear pieces from Kashmir—from dresses to salwar suits to fusion outfits, each designed with a delightful twist.
Kashmiri embroidery is an art form that uses rich and intricate handwork. The finest materials are used to create these works of needlework, which are then painstakingly stitched onto various garments and accessories. The style of needlework that was most popular during this time was called "Kashmiri" or "Mughal", depending on whether you were looking at it from inside or outside India! This type of embroidery was characterized by geometric shapes within intricate designs.
The use of gold and silver threads has been a common feature in Kashmiri embroidery since its inception. This combination gives rise to some of the most intricate patterns seen in any Indian art form today. The quality and intricacy of these designs can be attributed to their origin: many are based on themes from nature or mythology, which were drawn from Buddhist texts dating back thousands of years ago! Today, the stories of the valley are illustrated through various forms of Kashmiri embroidery using colorful threads and elaborate motifs, bringing beauty to life.
The Kashmiri karigari, or craftsmanship, has evolved over the centuries and this winter, the styles coming into play are a testament to the new-age trends being amalgamated with the age-old art. Deploying a highly skilled and delicate process that involves the use of various tools and materials to create intricate designs on winter-friendly fabrics that are bound to beautify your winters further.
ABOUT THE NEW COLLECTION
As winter is upon us, we get to see the magic of this beautiful craft come to life on new silhouettes that are true to the season.
Luxuries of Kashmir is bringing you a winter collection so unique and true to the Kashmiri heritage, that you are bound to fall in love all over again. The intricacy of art and the finesse of details are all set to leave you awestruck. The latest collection - Twilight is a soiree of colors, craft, and details in all their glory. The latest collection features authentic Kashmiri staples and fusion outfits that can festoon your wardrobe and that of the generations to come.
We are excited to have you celebrate the wonders of winter in our latest collection - Twilight. Stay tuned for more updates
.