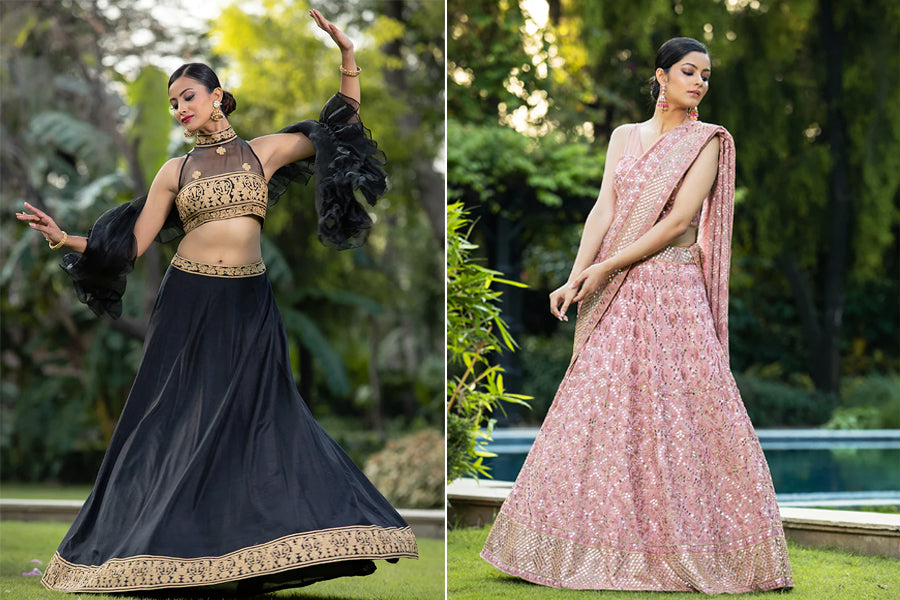 Winter is here and so is the wedding season. It is the perfect time to get those winter fashion staples in place to dance it off, beat the chills and make a statement while at it. Whether you aim to make a stellar entrance or looking to embrace a minimalistic vibe this winter wedding season, Kashmiri outfits make for the ideal choice. The perfect amalgamation of finesse, craft, and elegance, these outfits in subtle hues and Kashmiri embroidery-clad perfection are the perfect addition to your ethnic wardrobe. At Luxuries of Kashmir, there are a plethora of eye-catching styles that can help you bring out your ethnic best this wedding season.
Lehengas are synonymous with weddings and celebrations. Kashmiri lehengas however are a class apart when it comes to making a splendid style statement. The grandeur of these traditional pieces is unmatched given the graceful silhouettes and fine craftsmanship. Kashmiri lehengas are often made from luxe and sophisticated fabrics like georgette and dupion silk that have a certain air of elegance but also functional aesthetics to keep the outfit looking and feeling fine. The lehengas are tailored to perfection in the traditional sense but are given a touch of modernity. The lehengas are festooned with authentic Kashmiri embroidery and layered with a touch of magical sequined art making them a dreamy choice of outfit for your next ethnic endeavor.
Salwar suits have a certain elegance that cannot be put in words. Their timeless appeal and simple construction have made them an elegant staple over the years. Salwar suits consist of three elements that work in harmony to make one elegant attire. Kashmiri salwar suits come rendered in elegant silhouettes that are the definition of feminine grace. The top or kurta is usually crafted in extraordinary fashion where the neckline and sleeves are festooned with traditional embroidery. The salwar is designed to complement the kurta and give it a twist of sophistication. The dupatta ties the overall look together with finesse. Salwar suits are a beautiful choice of attire for weddings as they seamlessly combine class and comfort. Adding a Kashmiri salwar suit in the mix is sure to glam up your look and get you a plethora of compliments too.
If the idea of making a contemporary style statement excites you, pick a Kashmiri fusion outfit for your next wedding saga and watch the compliments pour in. Fusion outfits are a contemporary rendition of traditional outfits - a fine blend of the new and old styles that mix perfectly to make an outfit that is unique and statement worthy. Fusion outfits add a certain quo of glam that is hard to miss and impossible to ignore. The fine fabrics, the unique tailoring and the exceptional artisanship make fusion outfits a go-to fashion essential this season.
Give your ethnic wardrobe a makeover and ensure you ace every Shaadi look with some elegant and unique outfits birthed from the most beautiful valley on earth. Luxuries of Kashmir bring you ethereal handcrafted pieces that are sustainable and sourced ethically, made in accordance with authentic Kashmiri artisanship. Visit www.luxuriesofkashmir.com to shop now!