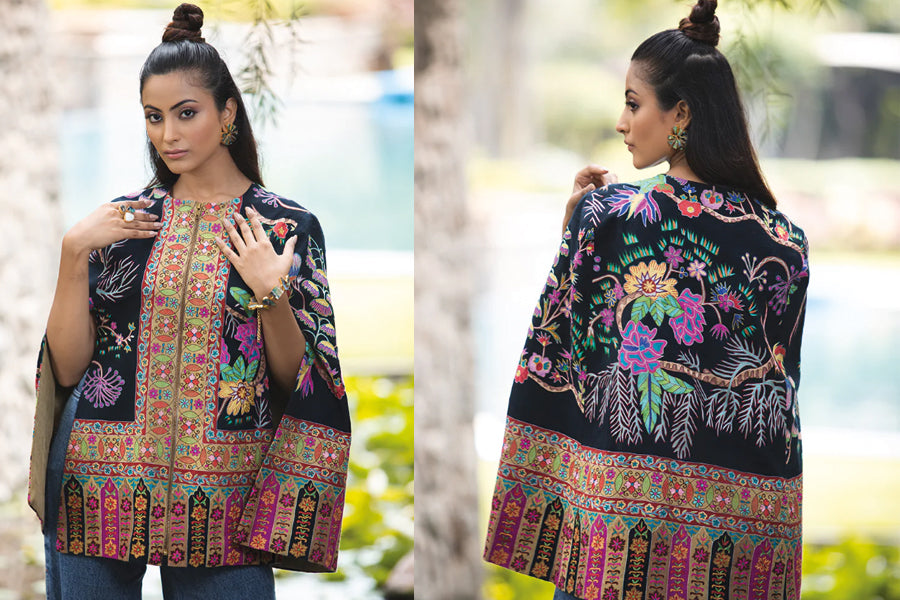 There is something about winter that makes it dreamy and fairytale-like. The chilly evening breeze, snow-capped mountains, longer nights, and endless possibilities to steal some cheer. Winter brings with it happiness, holidays, and the opportunity to give your fashion game a much-deserved upgrade. Kashmiri fashion was rendered to suit the chilly winters - from snuggly jackets to cozy capes, Kashmiri outfits make you look downright glamorous even when the temperatures are low.
Pashmina is cashmere wool that is soft to the touch but supremely warm and cozy. This season, Luxuries of Kashmir brings you elegant winter marvels crafted from the finest Pashmina and adorned with tasteful Kashmiri embroidery.
Wishlist some of the most elegant pieces from our latest collection - Twilight, and make your evenings glamorous, warm, and fuzzy, with the added touch of Kashmiri craftsmanship.
KASHMIRI JACKETS


The ideal winter staple to keep warm and stylish, the Dark Desire Pashmina jacket is made from authentic Pashmina. The black jacket is adorned with contrasting Kalamkari embroidery that runs along the jacket like a story in itself. The intricate hand embroidery adds a layer of sophistication and charm to the jacket. The inner silk lining and fur along the collar are fine details that delight the eyes and warm the soul.
The jacket is perfect for an evening rendezvous when teamed with well-fitted trousers.
Like a song of winter filled with emotions of happiness, this white and blue Pashmina jacket is full of surprises. Featuring heavenly tones of blue hand embroidered using silken thread on white dupion silk, this longline jacket from Luxuries of Kashmir is a work of art. The jacket features floral motifs depicting the blooms of the valley along with birds that sing praises of nature. The intricate embroidery is executed by the most skilled artisans in Kashmir, producing breathtaking results.
Team your Canopy Clouds longline jacket with a pair of white trousers for a rather chic look.
KASHMIRI WINTER CAPES
Indulge in luxury at its finest when you flaunt this winter cape tailored from pure Pashmina and adorned with beautiful Kalamkari weaves. Displaying royalty in silhouette and elegance in form, the cape features brilliant colors and vivid motifs carefully assorted to produce a work of art. The cape features elaborate craftsmanship along with fine tailoring to offer a luxurious touch to your winter evenings.
Pair your Prismatic Pashmina cape with black pants or denim for a regal look.
An elegant winter staple to own, the white cape comes magnificently accoutred with intricate weaves native to the valley of Kashmir. The semi-pashmina cape is tailored to envelop the body with elegance and leave a touch of grace with its fine details. The cape relays stories of life in color, a sight to behold. The alluring hues and the exquisite details add a sense of sophistication to the cape - a perfect accomplice to your winter adventures.
The cape can be worn with a pair of jeans or well-fitted trousers.
Explore more jackets and capes from our latest collection, Twilight.