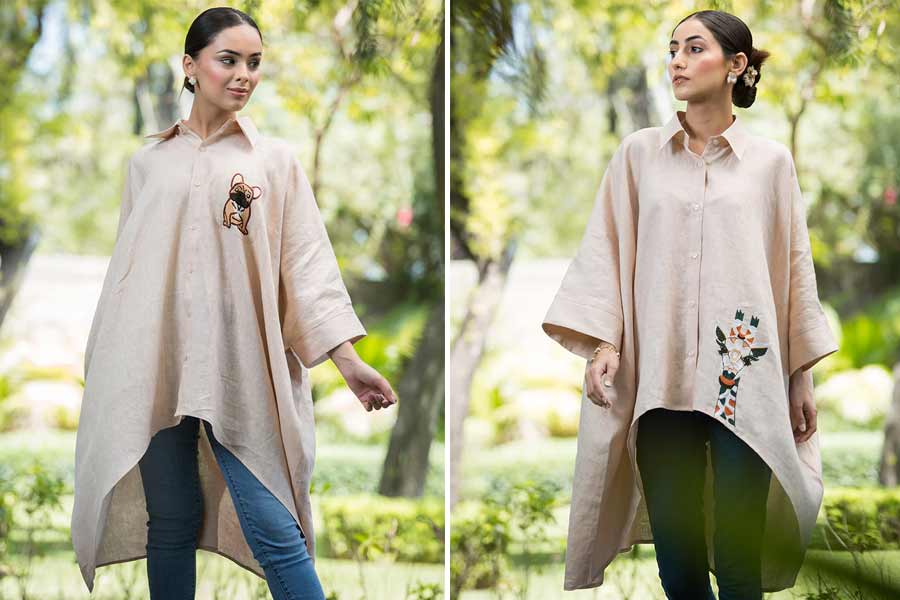 When shopping for clothes one of the key criteria to look for is the seamless transition from work to leisure and our latest shirts from the A la mode collection offer just that. Shirts empower women to flaunt their unique style anywhere, be it the boardroom or a weekend getaway. They are comfortable, versatile, and never cease to make a statement.
The latest shirts from our A la mode collection break the shackles of conformity and embrace a new era of fashion that effortlessly blends professionalism with individuality. The silhouettes are crafted to cater to the modern Indian that loves making a notable style statement. Discover the exquisite craftsmanship, the vibrant colors, and the impeccable attention to detail that make these shirts an absolute must-have in every modern woman's wardrobe. Prepare to be inspired as we unlock the secret to effortlessly looking chic, confident, and ready to conquer the world, one fashionable shirt at a time.
A flowy shirt inspired by the majestic creatures of the wild.
Indulge in the unmatched comfort of a breezy linen shirt designed to embody the elegance of the wild. The pinkish beige linen shirt is tailored in an asymmetric fashion with a high-low hemline and features a casual fit with a button down collar and breezy sleeves. The casual shirt flaunts prominent motifs of a giraffe set with aariFlaun thread embroidery - encapsulating all the beauty of the majestic creature in all its glory. The shirt is the perfect example of casual chic and subtle sophistication. It can be seamlessly teamed with a pair of jeans for that extra oomph that makes heads turn.
A floral extravaganza in full bloom
There is nothing more pleasant than watching flowers in bloom or wearing them. This delightful powder blue shirt rendered from pure cotton features a melange of floral blooms that soothe the eye and channel beauty in its most natural form. The baby blue canvas features blue embroidered flowers that channel the beauty of craftsmanship and elegance of the Kashmiri artform. The added touch of pastel tones makes this shirt a sight to behold - a comfortable staple that can take you through the day with a sure shot chance of making a memorable statement.
An ode to man's best friend in the most comfortable fashion
Flaunt a shirt that is anything but ordinary. The flowy shirt features a dreamy silhouette teamed with elegant artwork featuring the majestic French Bulldog. The pinkish beige asymmetric shirt comes with a flowy form for unlimited comfort - ideal for making a statement while looking and feeling your absolute best. The canine chic shirt is an ode to man's best friend and honestly, a must have for all pet moms. The shirt is both casual and chic, ideal for a day out or a working Friday.
Explore more elegant and chic work x leisure outfits embodying Kashmiri artisanship and finesse. Visit www.luxuriesofkashmir to explore more interesting outfits.