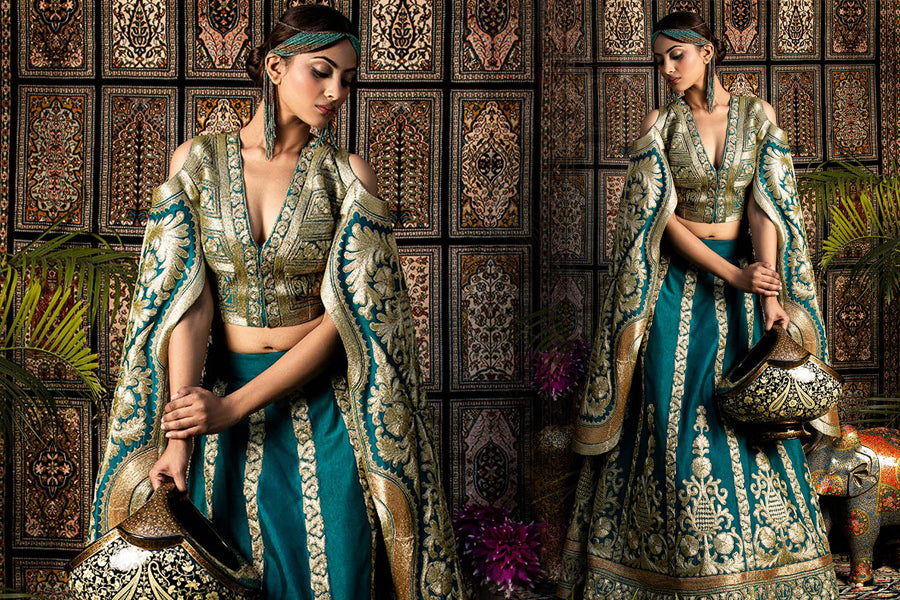 The festive season is right around the corner bringing with it the magical whiff of sweets and delicacies, the bright lights, colors, and a million reasons to celebrate. And while you celebrate the festival of lights with good food and great music, you ought to look your best with outfits that reflect your personality and radiate cheer. 
Ditch the conventional Diwali bling and choose to glam up in style. Add a luxurious twist to your festive wardrobe with marvels of Kashmiri craftsmanship. Shake a leg and make a statement with elegant designer Kashmiri suits, sharara sets, and more.
WHY CHOOSE KASHMIRI OUTFITS FOR THE FESTIVE SEASON? 


There are many reasons why you should opt for a classic, designer Kashmiri creation instead of the regular bling this Diwali. Here are some
Effortlessly Elegant: Kashmiri outfits have an air of charm that is simply irresistible. The intricate weaves embed stories of nature onto delicate silhouettes that radiate elegance like no other. The finesse of a Kashmiri embroidered outfit is unparalleled, and what better time of the year to channel your inner diva than during the festive season? Opt for a simple yet classy salwar suit or go grand with a lehenga - the options are endless.
Supremely Sustainable: Make a positive impact on the environment by choosing to stay away from fireworks and fast fashion. These designer Kashmiri outfits are a fine blend of luxury and sustainability - all you need to make a positive impact this festive season.
A Great Investment: Kashmiri outfits are a worthwhile style investment. The beautiful pieces can be sustained for years and passed as an heirloom, and as essential pieces when putting together a capsule wardrobe.
FESTIVE FASHION STAPLES TO INVEST IN


Embody elegance and grandeur with a lehenga set. This teal lehenga set might be just the right outfit to grace your celebrations this year with its royal appeal and intricate craftsmanship. Made from dupion silk, this teal green lehenga features antique puff tilla embroidery executed with fine silken threads. The blouse displays excellence with its cuts and roman sleeves. The intricate work, the fine details, and the overall look of this lehenga are bound to make you a showstopper this festive season.
If simple yet sophisticated is your style mantra, this Kashmiri salwar suit ladened with beautiful floral dabka embroidery is all you need to make a splash this celebratory season. Rendered in a dreamy hue of peach and tailored as a flowy Anarkali, this suit set is a staple for the modern woman who needs style and substance. The georgette Anarkali is ideal when you want to make a memorable style statement while keeping it minimal and chic.
Embrace 6 yards of elegance in a fusion form complete with the intricate excellence of Kashmiri craftsmanship. The vintage-inspired saree is rendered in a classy cream tone and is festooned with vibrant aari embroidery depicting flora in bloom. The georgette saree features elegant details that make it a tasteful pick for the festive season and a great style staple beyond. The saree is simple yet makes a significant statement with its mesmerizing details.
Get festive-ready with Luxuries of Kashmir. Shop festive favorites from our recent collection.